Vegetable Lentil Soup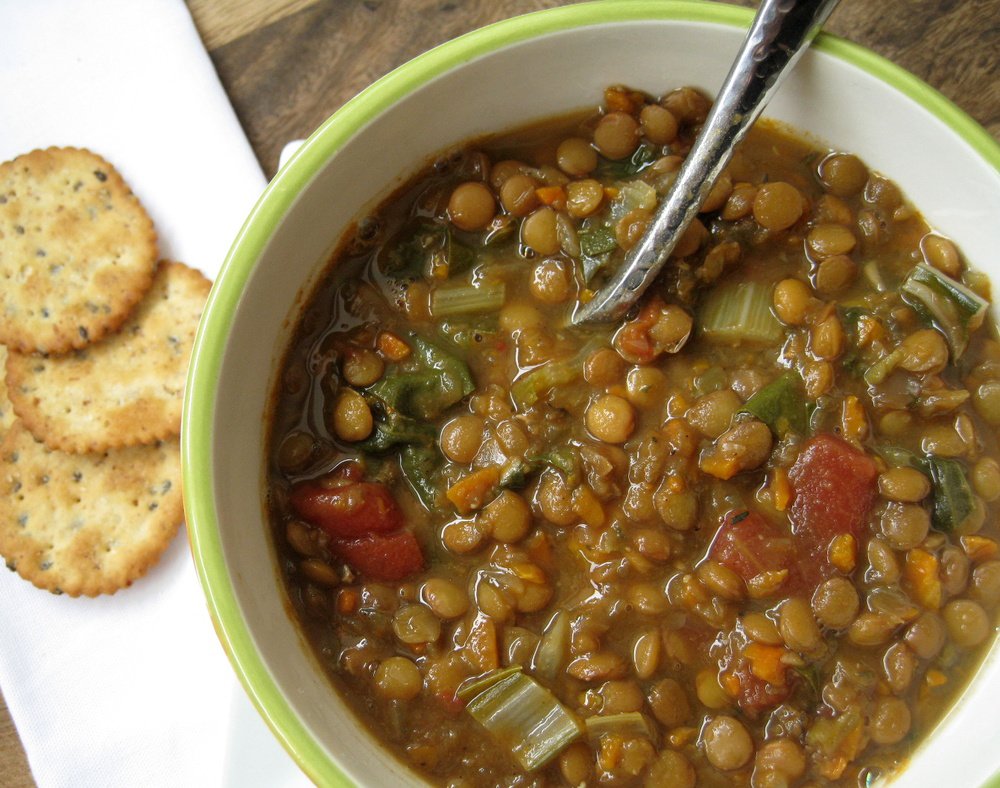 This recipe is from Gourmet magazine and can be found on epicurious.com.  It requires lots of chopping, but is relatively easy. I generally double the recipe when I make it, because it goes very quickly.  Note that the lentils may need more cooking time, depending on whether you have pre-soaked them or they are dry.  Buy the pre-cooked lentils at Trader Joe's to save time!  Serves 2 generously.
Ingredients:
2 Tablespoons olive oil
1 medium yellow squash, cut into ½ inch cubes.
1 medium onion, chopped
1 garlic clove, chopped
¼ teaspoon curry powder
½ Cup lentils, cleaned, rinsed, and pre-soaked if possible
3 cups of water
1½ cups chicken broth
1 cup packed escarole or spinach leaves, washed well, spun dry and chopped
2 plum tomatoes, peeled and chopped
¼ cup chopped fresh parsley leaves
1 teaspoon red-wine vinegar
Freshly ground black pepper.
Procedure
In a large saucepan heat 1 Tablespoon oil over moderately high heat until hot but not smoking and sauté squash, stirring occasionally until golden. Transfer squash to a bowl.
Add remaining tablespoon oil to pan and cook onion, stirring occasionally until just tender. Reduce heat to moderate. Stir in garlic and curry powder and cook, stirring, 1 minute.
Add lentils, water, and broth, and simmer 20-40 minutes, until lentils are tender (depending on the kind of lentils you use).
Add squash and remaining ingredients except pepper and simmer 3 minutes. Season soup with salt and freshly ground black pepper.