One Pan Garlic Butter Salmon and Swiss Chard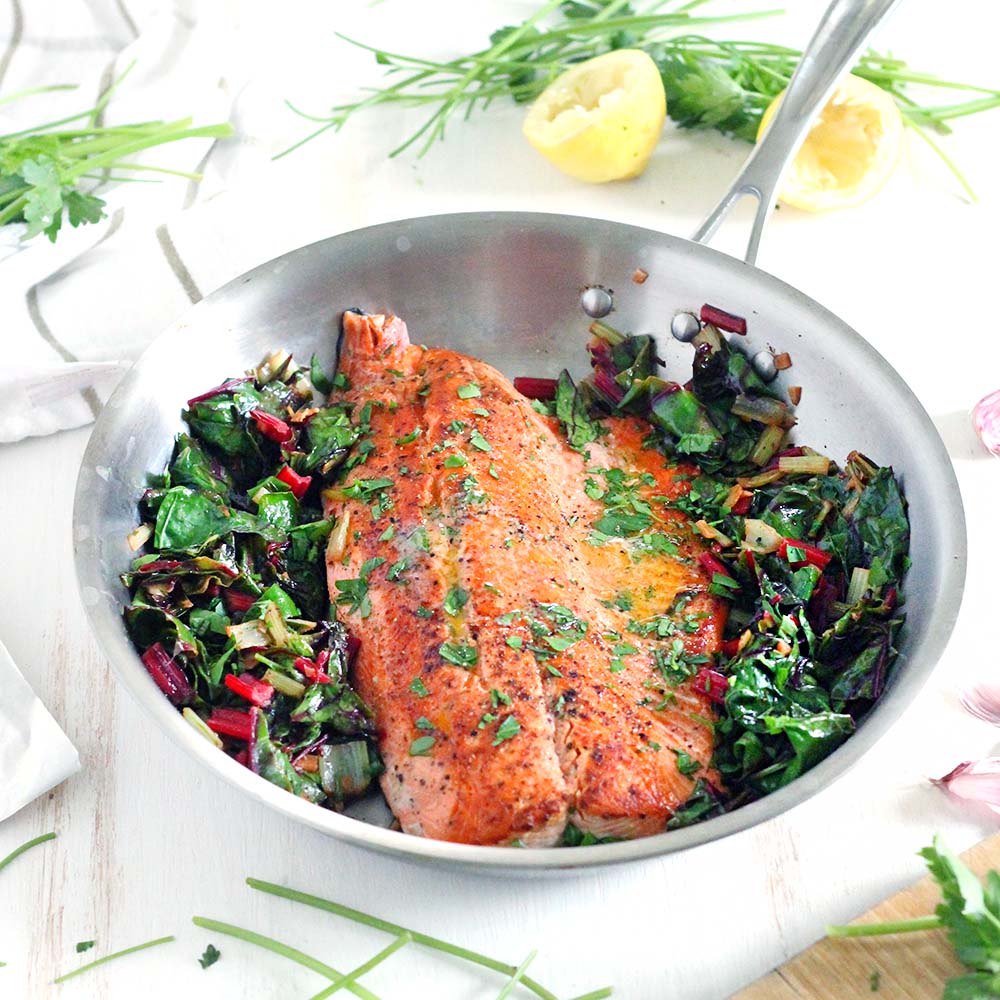 Any meal that comes together in only 20 minutes in only one pan is a huge win in my book. This One Pan Garlic Butter Salmon and Swiss Chard, found on the Bowl of Delicious food blog, is the perfect healthy meal for busy people.  It's simple, uses only 5 ingredients, and is gluten-free, paleo, and whole30 compliant!  Serves 4.
Ingredients:
2 Tablespoons butter or ghee, divided
1 lb. salmon filet
2 garlic cloves, minced
2 lbs. rainbow swiss chard, leaves and stems separated, cut into 1-2 inch pieces, and reserved (about 2 bunches)
kosher salt and pepper, to taste
juice of one lemon
chopped fresh parsley for serving (optional)
Procedure:
Season both sides of salmon liberally with salt and pepper.
Melt 1 Tablespoon butter in a large skillet over medium high heat.
When the pan is hot, add the salmon skin side up.  Sear for 4-5 minutes, or until salmon easily releases from the bottom of the pan.  Sear skin side down for 4-5 minutes, or until salmon is cooked through and flakes easily with a fork.  Remove salmon from pan to a plate and cover with aluminum foil to keep warm.
Add remaining 1 Tablespoon butter to pan and melt over medium heat.  Stir in garlic and sauté until fragrant and beginning to toast, stirring consistently, about 30 seconds.
Add the chard stems and season with salt and pepper.  Stir to coat.  Cover the pan and allow to cook for 3-4 minutes, or until tender.
Add the leaves and stir, cooking until wilted, about 1-2 minutes.
Remove from heat and stir in lemon juice.
Serve salmon on top of chard garnished with fresh parsley, if desired.