Three Cheese Tomato Tart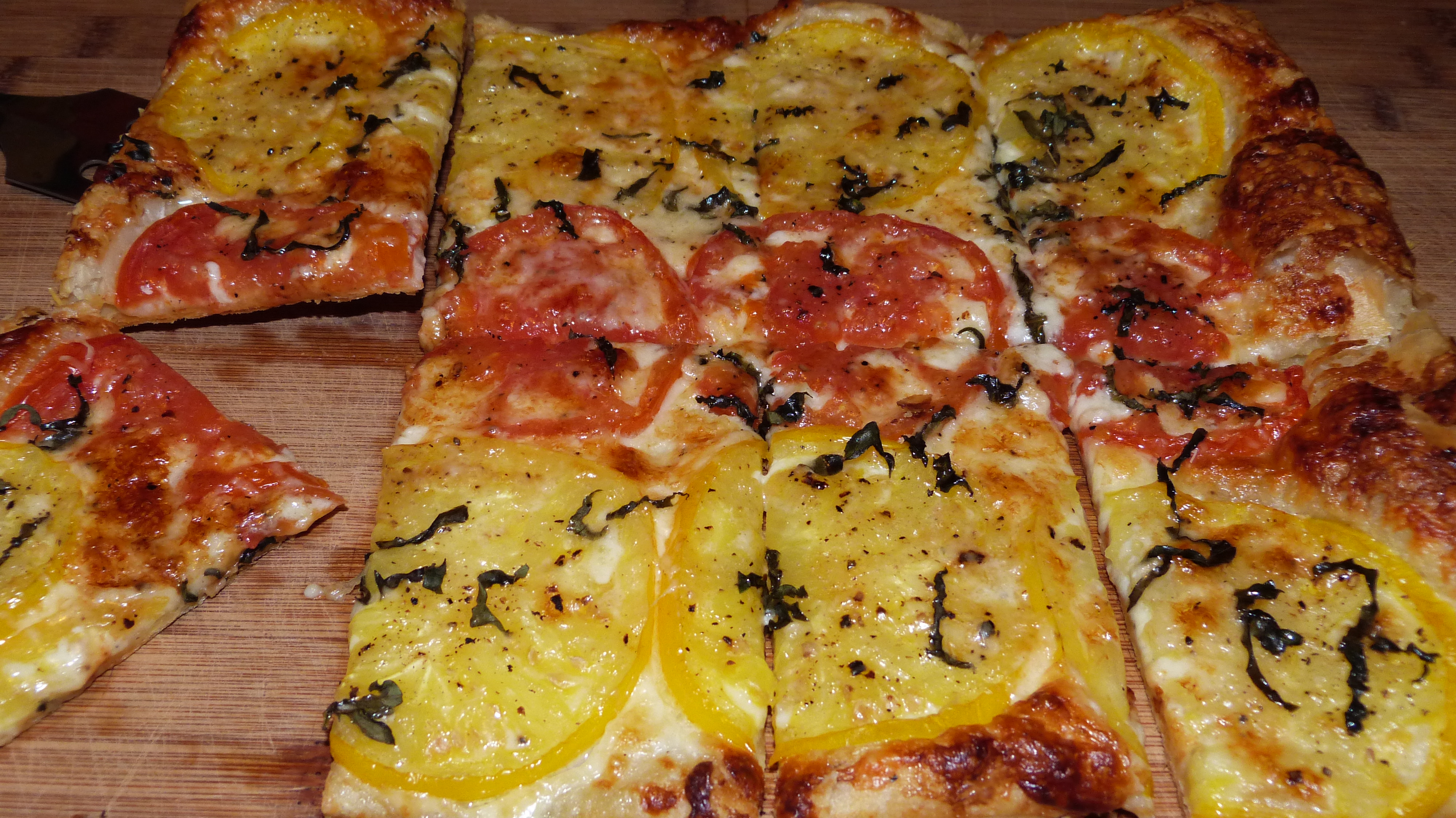 This recipe is basically a Southern spin on pizza (just add mayo.)  A flaky pie crust, a cheddar and mayonnaise blend, and juicy garden tomatoes.  Found on thekitchn.com food blog, this is one of those recipes that just takes you aback the first time you have a bite.  You just won't believe how delicious (and easy) it is!
Ingredients:
2 ripe tomatoes, cut into ⅛-inch slices
1 sheet frozen puff pastry OR store bought pizza/bread dough in canisters (e.g. Pillsbury)
3 Tablespoons light mayonnaise OR pesto of choice
½ cup shredded cheddar cheese
½ cup shredded mozzarella cheese
2 Tablespoons finely chopped basil
Freshly grated Parmesan cheese, to taste
Kosher salt and freshly ground black pepper
Procedure:
Preheat oven to 400°. Lay out the tomato slices on a large sheet of paper towels. Cover with more paper towels and allow to drain for approximately 30 minutes (this is crucial to not getting a watery tart base). Meanwhile, remove the sheet of puff pastry from the freezer and allow to thaw at room temperature for 30 minutes.
Unfold the puff pastry (or unfurl the canister- type pizza or bread dough) onto a parchment- lined baking sheet, pinching to close any holes in the seams. Using a fork, prick the dough all over to prevent it from puffing up during baking.
Spread a thin layer of mayonnaise (or your favorite pesto) over the entire puff pastry (or dough). Sprinkle evenly with shredded cheddar and mozzarella cheeses. Arrange the tomato slices over the cheese. Season generously with kosher salt and pepper. Sprinkle Parmesan cheese on top and garnish with freshly chopped basil.
Bake for 30 minutes, until the pastry is golden brown and the cheese is melted. Remove the pastry from the baking sheet and let cool on a wire rack for 5 minutes. Cut into squares and serve immediately.