Baingan Bharta – Roasted Eggplant Purée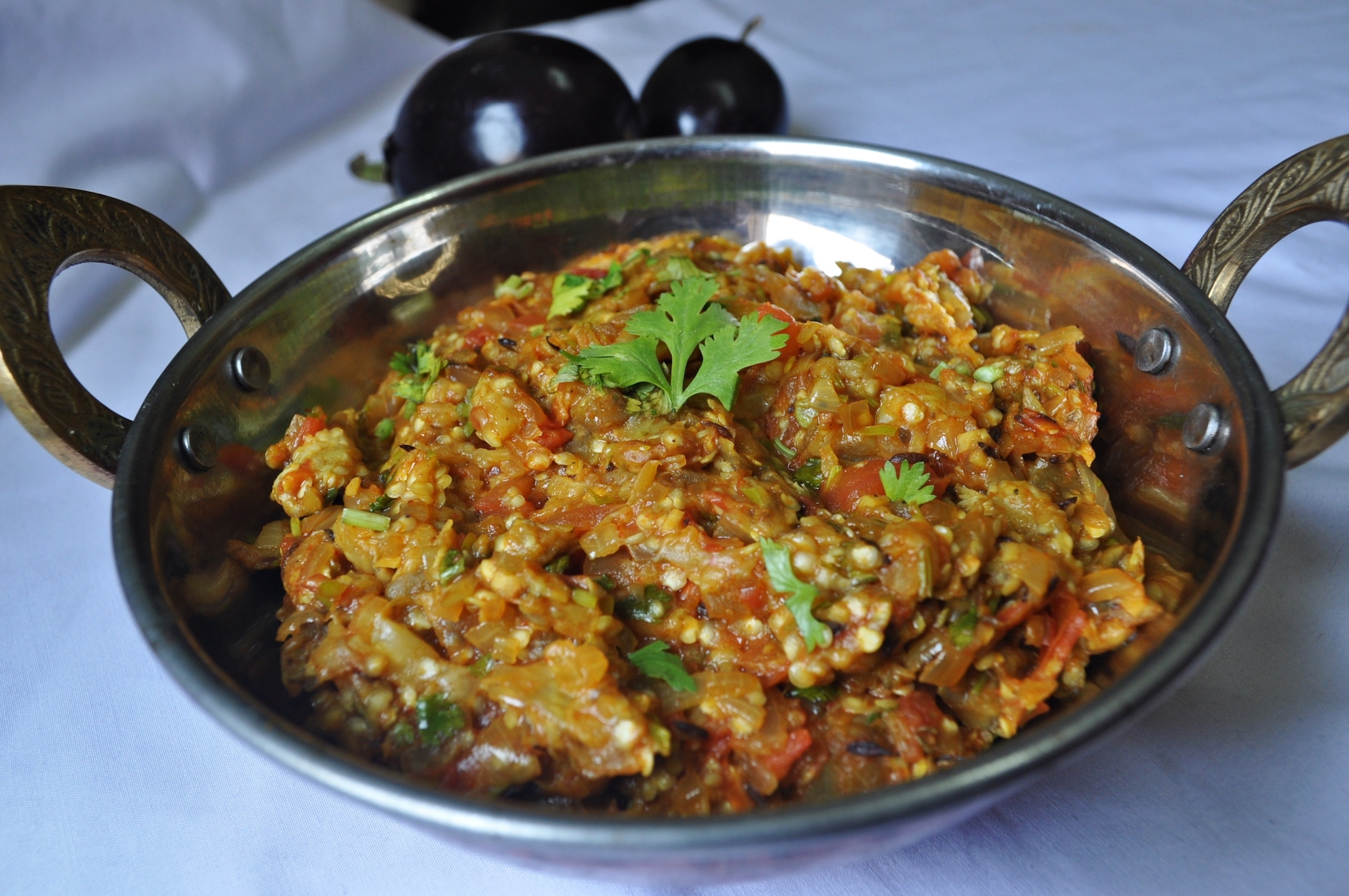 Found in Rani Sidhu's Menus and Memories from Punjab cookbook, this is a classic recipe for Baingan Bharta, a roasted eggplant purée.  The word 'Bharta' (pronounced BHURR-taah) refers to dishes in which the ingredients are roughly mashed either before or after the dish is prepared.  Bhartas are largely North Indian in origin and made from all sorts of vegetables.  Yields 10 half-cup servings.
Ingredients:
2 medium/large eggplants
1 large red onion, chopped
3 Tablespoons olive or canola oil
4 cloves garlic, minced
1½-inch piece ginger, finely grated
1½ teaspoons ground cumin seeds
1½ teaspoons ground coriander seeds
¼ teaspoons ground cayenne pepper
3 tomatoes, seeded and chopped
1 green chili pepper, seeded and chopped
1½ teaspoons salt
1 cup thawed green peas or 1 cup sliced red onion
Garnishes: 1 teaspoon garam masala, ¼ cup chopped cilantro
Procedure:
Preheat the oven or grill to 400°F. Wash and prick the eggplants and place on an oiled baking sheet or grill (indirect heat). Roast eggplants, turning every 10 to 15 minutes, for 40 minutes or until collapsed and soft.
Remove the eggplants from the oven or grill and cool. Wrap in plastic wrap except for green end, cut the green end off and squeeze the flesh into a colander in the sink. Drain for ten minutes. Discard the peel and plastic wrap. (This step may be done the day before and the eggplant pulp refrigerated.)
Meanwhile in a large skillet, sauté the chopped onion in the oil until transparent. Add the garlic and sauté for a few minutes. Add the ginger, stirring. Add the spices and sauté for a few minutes. Add the tomatoes and chili pepper and sauté for a few more minutes.
Add the eggplant pulp and the peas or onion slices. Stir occasionally while cooking for 5 minutes on medium heat.
Lower heat, cover tightly, and simmer for another 45 minutes, stirring occasionally.
This dish may be refrigerated until serving time and then reheated and garnished. After placing in a serving dish, sprinkle with garam masala and cilantro.  Serve hot with chapatis (flatbread) or rice.