Leeks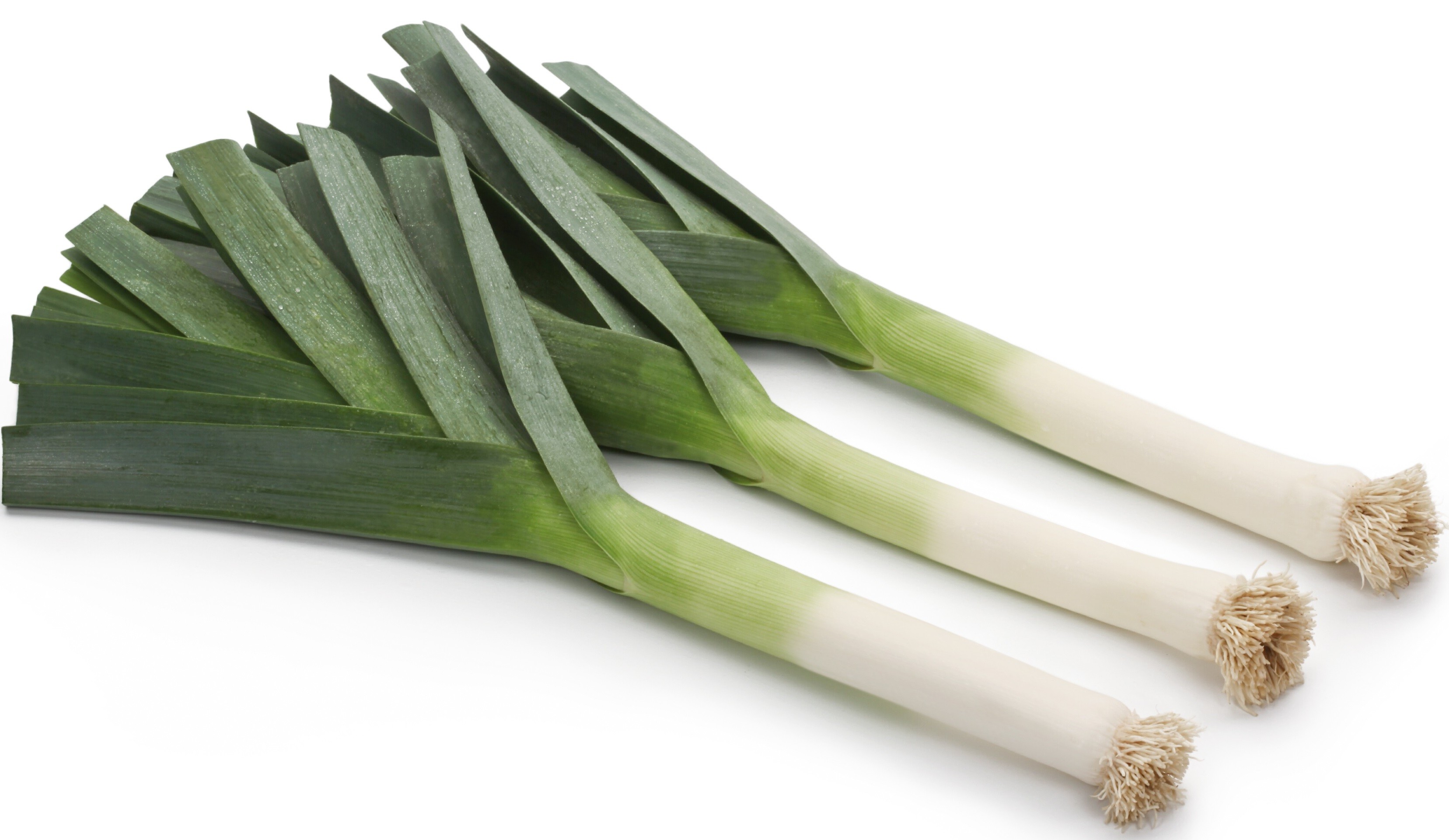 Leeks, known scientifically as Allium porrum, are related to garlic, onions, shallots, and scallions. Leeks look like large scallions, having a very small bulb and a long white cylindrical stalk of tightly wrapped, layered leaves.  With a more delicate and sweeter flavor than onions, leeks add a subtle touch to recipes without overpowering the other flavors that are present.
Leeks enjoy a rich history. Thought to be native to Central Asia, they have been cultivated throughout Europe for thousands of years.  Leeks were prized by the ancient Greeks and Romans and were especially revered for their beneficial effect upon the throat.  The Roman emperor Nero supposedly ate leeks everyday to make his voice stronger.  The Romans are thought to have introduced leeks to the United Kingdom, where they were able to flourish because they could withstand cold weather.
To prepare leeks, cut off the roots and green tops of leeks, then remove outer tough leaves.  Cut leeks in half lengthwise. Fan out the leeks and rinse well under running water, leaving them intact. Cut leeks into 2-inch lengths.  Then, holding the leek sections cut side up, cut lengthwise so that you end up with thin strips, known as the chiffonade cut, slicing until you reach the green portion. Make sure slices are cut very thin to shorten cooking time. Let leeks sit for at least 5 minutes before cooking.
Fresh leeks should be stored unwashed and untrimmed in the refrigerator, where they will keep fresh for between one and two weeks. Wrapping them loosely in a plastic bag will help them to retain moisture.  Cooked leeks are highly perishable, and even when kept in the refrigerator, will only stay fresh for about two days.  Leeks may be frozen after being blanched for two to three minutes, although they will lose some of their desirable taste and texture qualities.  Leeks will keep in the freezer for about three months.