Farm News- November 6, 2008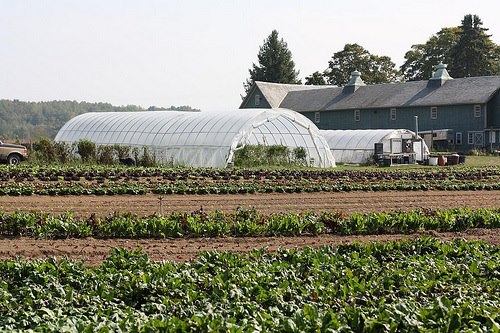 Hi Folks,
In last weeks update I said that I was hoping the weatherman was wrong about the rain predicted. Well he was correct about the precipitation, only most of it fell as heavy wet snow out here, causing havoc on the highways and preventing us from making our Tuesday deliveries! My apologies to all those who were inconvenienced by this, but both Rt. 206 and I-80 were closed all afternoon.We simply couldn't get there from here!
Although farmers are busy constantly we also spend a lot of time waiting. Waiting for seeds to come up; wondering if they will; waiting for crops to grow and reach maturity and worrying about what calamities may befall them before they do. These last few weeks have been extremely frustrating as extreme and unseasonably cold temperatures have damaged and slowed the growth of crops that are very hardy and normally thrive in cooler weather. I have been waiting for the broccoli raab to form its small florets and for cabbages and cauliflowers to form heads; for spinach to be large enough to bunch. There are still thousands of broccoli, cauliflower, cabbage and lettuce plants in the field that should soon mature. With adequate soil moisture and milder temperatures predicted for the next week or so, these crops should reach the finish line. The first of the spinach should be ready next week and I expect to have some broccoli raab to offer as a choice with other greens. For this week the share will be: Lettuce, white potatoes, white salad turnips, red onions, choice of 2 greens (tatsoi, arugula, mustard green, kale), spaghetti squash, choice of garlic or shallots, baby bok choy, and choice of an herb.
Enjoy!
Farmer John