Farm News- November 13, 2008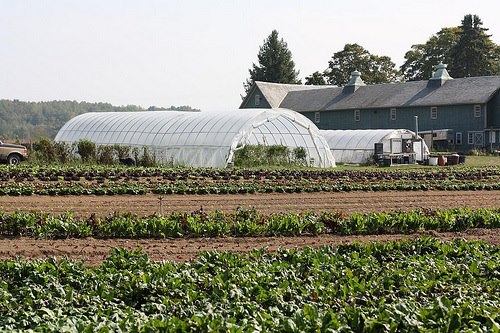 Hello Everyone,
Well, we have reached the end of another season and none too soon for my workers and I. We are all quite exhausted and at present chilled to the bone. Washing potatoes and root vegetables during these cold days is quite taxing. It was a difficult year, mostly due to the transition to a new location and not having our infrastructure and organization in place from the start. While I have been doing this for long enough that it should come as no surprise, it still amazes me just how much of a battle it is to produce good quality food. Although I nearly always feel that I could have done better with certain crops, overall I am satisfied with what we were able to grow and provide to the members. I only hope that you all feel the same! Over the winter I will review the results of the member's surveys and make plans to improve our production and quality with regard to your feedback. I believe that with each passing year I become a better farmer; learning from my mistakes; brainstorming on new ways to meet the challenges and to outsmart the weeds, animals, insects, and even the weather. There may never be a perfect season but I will continue to strive to do a little better each year. I'd like to thank the many dedicated coordinators and volunteers that make the CSA program possible. The encouragement, support and patience that I have received allow me to do what I love to farm. And of course thanks to all of you, whose financial support and trust in me is equally indispensable. I wish you a happy and healthy holiday season and look forward to serving you next year. The share for this week will be: spinach, yellow onions, red potatoes, choice of green or napa cabbage, carrots and parsnips (Montclair and S.I.) or salad turnips (all other groups), acorn squash, celery root, and choice of a green (arugula, tatsoi, broccoli raab or mustard greens).
Enjoy!
Farmer John
P.S.
I will again be collecting used children's clothes and toys to be brought to Central America by my workers when they return or by myself when I travel there in December or January. Anyone who has anything they would like to donate can bring it on the last pickup or the first week of the 3 week extension. Anything from newborn to teenage will be appreciated.