Farm News- July 5, 2012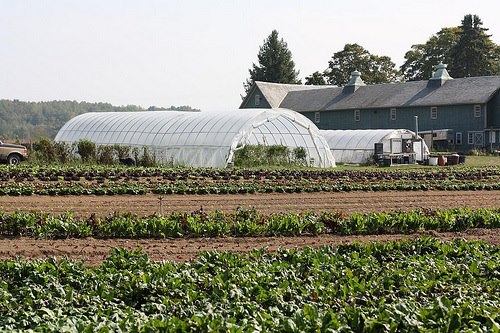 Hello Everyone,
It's been hot and dry here at the farm. We had only a passing thunderstorm on Sunday- what I call a nuisance rain, because it only served to chase us out of the fields and did not drop enough precipitation to do the crops any good. The forecast gives us a 50% chance of rain on the 4th of July; keep your fingers crossed!
We are cutting lots of broccoli at the moment and it is some of the best quality that I have seen from a summer crop, in spite of the unfavorable weather. Broccoli needs a lot of moisture and we have tried to be diligent about getting the sprinklers on the crop as it begin to head up. We are also beginning to cut cauliflower and some groups will receive it in the share. Those who don't will get green cabbage instead and receive their cauliflower next week.
We are also harvesting substantial amounts of summer squash now as well as some cucumbers. We hope to have enough for all groups this week, if not we may substitute cukes. We have one more round of the salad turnips this week as the root vegetable. They are smaller and of better quality than 2 weeks ago.
We are forced to cut the spinach crop at a very small size, because it is not enduring the weather conditions well. We will have to send it bagged since it's too small to bunch. We also won't get a great harvest, so we will offer it as a choice with Swiss chard. The mustard greens are just about done now until fall, but we still have some tatsoi and some smaller quantities of other types.
In the allium category we have Elephant garlic, a mild flavored cousin of real garlic, more closely related to leeks than to true garlic. A favorite use for this bulb is roasting whole and making a paste to be used as a spread on bread or crackers. The stalk can also be used as you would use a leek.
Thanks to those who came out to pick peas on Sunday. The next chance to visit the farm and lend a hand is this Sunday, July 8 to help with the garlic harvest.
The share for this week will be:
Peas, broccoli, cauliflower or green cabbage, lettuce (probably green romaine) choice of escarole or endive (frissee), summer squash, choice of baby spinach or Swiss chard elephant garlic, choice of tatsoi or other mustard green, salad turnips, choice of an herb (parsley, sweet marjoram or summer savory).
Enjoy!
Farmer John