Farm News- December 2, 2010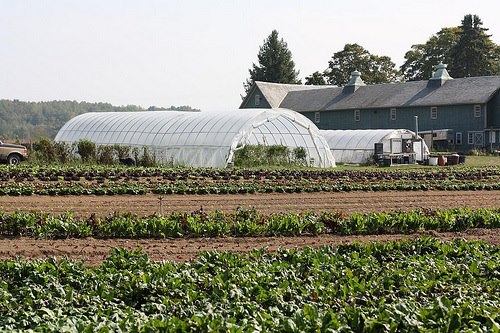 Hello Folks,
I hope you all had a pleasant Thanksgiving. Here at the farm we are grateful for relatively moderate temperatures during November.
Thanks to the mild weather and to some hardy volunteers who came out to the farm this past Sunday we will have a fair amount of greens to distribute along with the stock up delivery this week. We have been busy packing boxes with squash, filling bags with potatoes, onions and root vegetables, and harvesting kale and lettuce. The volunteers cut and bunched arugula, mizuna, and various other mustard greens on Sunday. I have to say this will be the best stock up we have ever delivered. A few tips on storing your produce- the potatoes and onions don't need to be kept very cold, 50 to 60 degrees is ideal. The squash is best kept a little cooler if possible, but don't let it freeze and protect it from dampness. If you will keep it in a place where the temperatures will vary you can wrap it in newspaper to mediate the temperature changes and protect it from condensation. Keep an eye on the squash and if you see a bad spot forming, cut it out and cook it immediately. You can easily freeze the excess.
The acorn squash has the shortest shelf life and will begin to get stringy after a month or so, so try to use it first. If you have room, the root vegetables should be stored in the bags, in your vegetable crisper, if not a cold garage or enclosed porch will suffice. The beets and parsnips will keep for many months, the carrots and turnips a month or two. The cabbage and cauliflower will also keep for many weeks; eat the broccoli first. So clean out your refrigerator! Here comes the stock up!
Thanks again to the volunteers who came out to lend a hand on Sunday and to all of you for your patronage and support. I would like to wish all of you Happy Holidays and a safe and healthy winter.
See you in the spring!
Farmer John