Farm News- October 27, 2011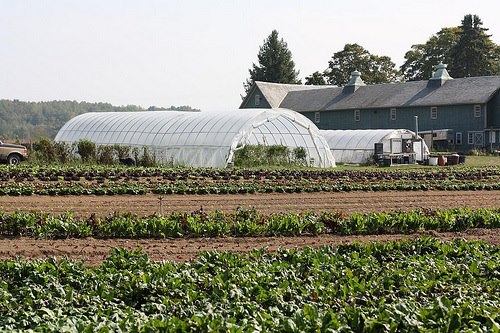 Hi Folks,
With the exception of some heavy rain on Thursday, the past week of weather was more or less beneficial. The temperatures remained balmy and the winds that followed the rain have helped to dry out the fields a bit. We still have some very soggy spots in the fields, making it a challenge to plant the winter cover crop. We are likely to have our first frost this next week with a hard freeze predicted as we head into November. At this point, most of the crops that remain are cold hardy so except for the peppers, a few cold nights won't affect us much.
We will be harvesting and distributing the Vermont Cranberry beans this week. These are a shell bean, not a string bean, so please don't try to eat the pods! I am told by one of my market customers that they are delicious with sausage or they can be used in soup. We will have celery root as our root vegetable this week (you know I have to throw you a curve ball once in a while!). It can be grated and eaten raw, boiled and pureed, or cubed and added to your soup. The celery-like stalks can be used to make stock (celery stalk stock?). We have a tremendous harvest of sweet potatoes so we will be sending more in your share for this week. This time it will be a white variety, which is very sweet but a little drier than the orange type.
The share for this week will be: Red Romaine lettuce, celeriac, garlic, choice of spinach or Swiss chard, butternut squash, choice of red, green or Napa cabbage, Vermont Cranberry beans, tatsoi or other mustard green, and choice of an herb (dill, parsley, or cilantro).
Enjoy!
Farmer John