Farm News- October 11, 2012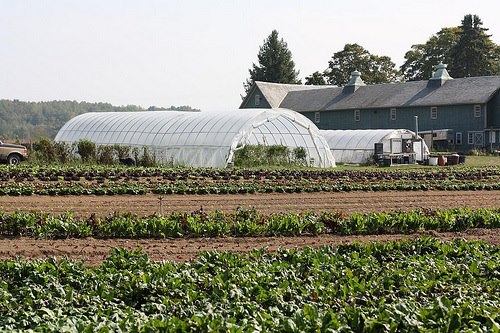 Hello Everyone,
It was quite a rainy one this past week and we are dealing with very muddy conditions here on the farm. Wet conditions are the norm in the fall and other than making our harvesting a bit more difficult abundant moisture is beneficial to the brassica crops, the carrots and other root vegetables.
Nights have been getting progressively colder and we narrowly missed getting frost on Sunday night. We have one more cold night forecast for the end of the week and I expect that we will be covering as many of the delicate crops as we can to squeeze a few more weeks of production from them.
We have a late planting of beans that has begun to flower abundantly and I am still hoping we can get a couple of weeks of picking from them.
We are still working on rotating broccoli and cauliflower through all the groups. If you have not had one of these it is likely you will receive it this week; if you have had both it will be kale. There's lots more broccoli on the way in the coming weeks. The broccoli raab is beginning to form it's small flower buds, so we will offer small quantities as a choice with the arugula this week.
The share for this week will be:
Red Boston lettuce, white potatoes, butternut squash, choice of spinach or Swiss chard, arugula or broccoli raab, red onions, choice of escarole or endive (frissee), parsnips, broccoli or cauliflower or kale, baby bok choi, and choice of an herb- cilantro or parsley and possibly radishes.
Enjoy!
Farmer John