Purslane Salad with Cherries and Feta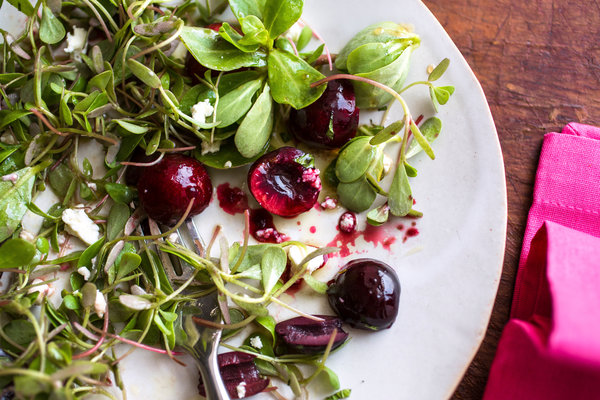 Recently spied in the New York Times June 25, 2013 issue, Martha Shulman offers up this salad using purslane — how timely! The recipe serves 4 as a side.
Ingredients:
1 generous bunch purslane, thick stems cut away (12 oz., about 4 c), washed and dried, or 1 bag mâche
1 Tbsp chopped fresh mint
16 cherries, pitted and quartered
12 kalamata olives, pitted and coarsely chopped
1 Tbsp sherry vinegar
1 Tbsp fresh lemon juice
1 tsp balsamic vinegar
1 small garlic clove, puréed Salt
¼ cup extra virgin olive oil
Freshly ground pepper
1 to 2 oz. feta, crumbled
Procedure:
Toss together the purslane, 2 teaspoons of the mint, the cherries and the olives in a salad bowl, or in a large bowl if you prefer to serve this on a platter.
Whisk together the vinegars, lemon juice, garlic, salt, olive oil and pepper. Toss with the salad. If desired, transfer to a platter. Sprinkle the feta and remaining mint over the top, and serve.