Spicy Salsa Verde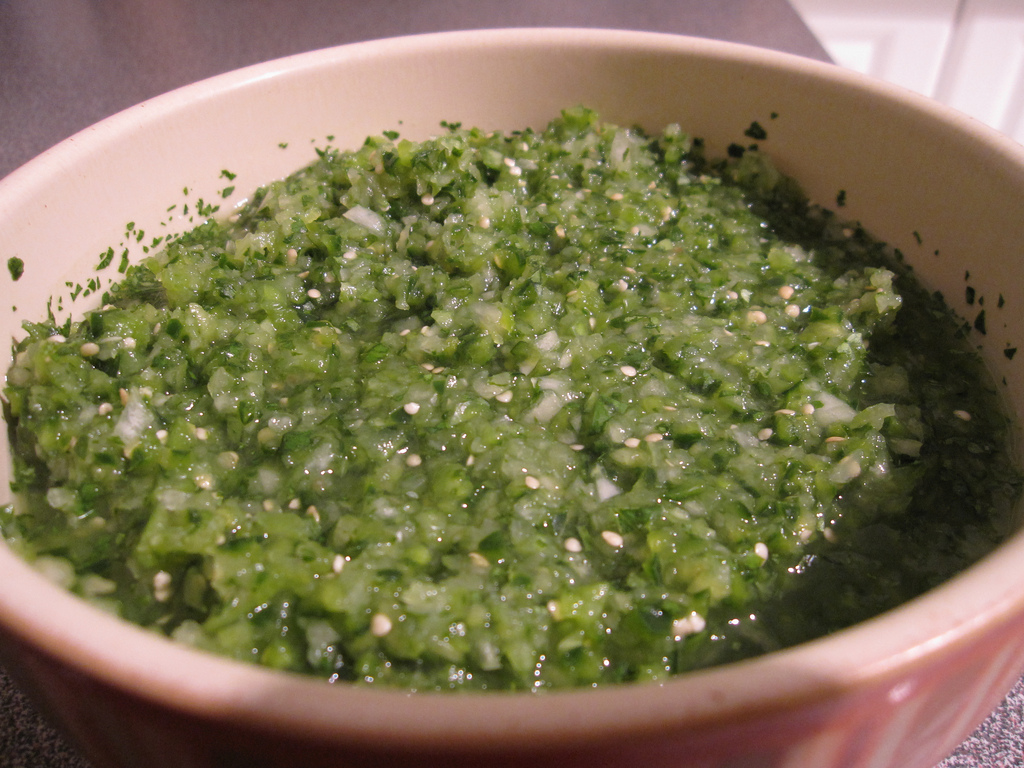 Salsa Verde is to Mexican cuisine what tomato sauce is to Italian food.  Salsa verde is similar to red salsa, except that instead of using red tomatoes, it uses the small green tomatillo. Its most popular use is as a chip dip, but also used as a sauce on meats and poultry.  This salsa verde recipe, found at whatscookingamerica.net, makes great use of the tomatillos, cilantro, and hot peppers in late summer shares.  Feel free to reduce the hot peppers and increase the tomatillos if you don't want it too spicy. Makes approximately 2 cups.
Ingredients:
2 large fresh red or green Anaheim chile peppers
½ pound tomatillos, husked, rinsed, diced
1 ½ cups low-salt chicken broth
2 large green onions, chopped
1 large Serranto chile pepper, stemmed, seeded
1 large garlic clove
¼ cup (firmly packed) fresh cilantro leaves
1 Tablespoon half & half, heavy cream, sour cream, or whipping cream
Salt and pepper to taste
1 tablespoon fresh-squeezed lime juice (optional)
Sugar, white or brown (optional)
Preparation:
Prepare Chile Peppers: Char Anaheim chilies directly over gas flame on your barbecue or with your oven broiler until blackened on all sides. Enclose in paper bag; let stand 10 minutes. Rinse off all of the blackened skin and then chop the chilies.
Warning: Always wear gloves when working with hot chile peppers (fresh, dried or roasted chiles). Never touch your eyes when working with chiles. Gloves will protect your hands, but the capsaicin in the chile pepper sticks to all it touches, and if you touch near your eyes it will burn. Rinse well with copious amounts of water. Please don't learn this lesson the hard way!
Prepare Tomatillos: Remove the husks, rinse, and dice.
Procedure:
In a medium saucepan over medium-high heat, add tomatillos, chicken broth, green onions, Serranto chile pepper, and garlic; bring to boil. Reduce heat to medium-low; simmer until mixture is reduced to approximately 1 2/3 cups, stirring occasionally, about 18 minutes.
Transfer mixture to a blender. Add charred Anaheim chilies, cilantro, and cream; puree until smooth. Season salsa with salt and pepper. Add lime juice.
Can be made 1 day ahead. Transfer to small bowl; cover and chill. Can be served warm or chilled.
Variation:  Mash an avocado or two with a fork, then stir into salsa. The avocado adds a nice texture and richness to this salsa.