Roasted Eggplant and Feta Dip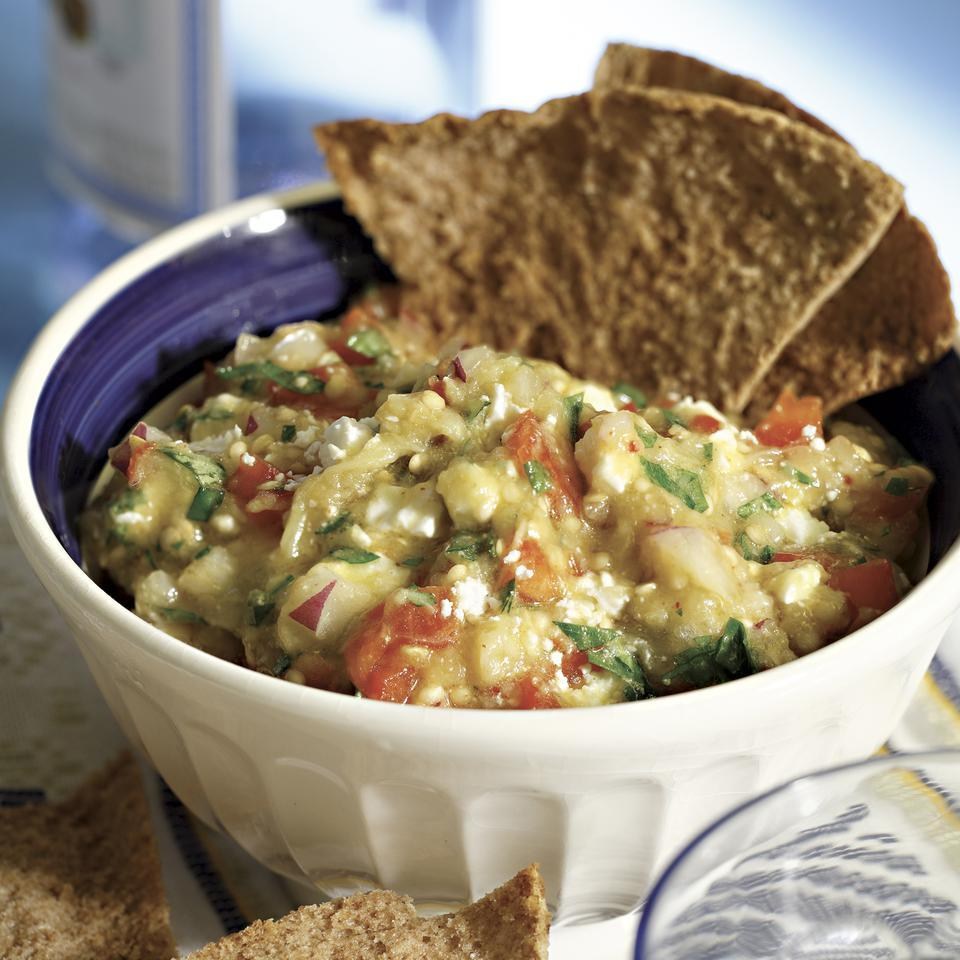 From the Jul/Aug 2012 issue of Eating Well magazine, this recipe made the "best appetizer" recipe of the last 10 years. The recipe as described serves 12, ¼ cup servings, as an appetizer.  Serve with toasted pita crisps or as a sandwich spread.
Ingredients:
1 medium eggplant (about 1 lb)
2 Tablespoons lemon juice
¼ cup Extra-Virgin Olive Oil
½ cup crumbled feta cheese, preferably Greek
½ cup finely chopped red onion
1 small red bell pepper, finely chopped
1 small chili pepper (i.e., jalapeno), seeded and minced, optional
2 Tablespoons chopped fresh basil
1 Tablespoon finely chopped flat leaf parsley
¼ teaspoon cayenne pepper, or to taste
¼ teaspoon salt
Pinch of sugar, optional
Procedure:
Preheat an oven broiler or grill (medium direct).
With a fork, poke holes in the eggplant (to allow it to vent) and roast either in the oven (about 6 inches from the broiler, or on the grill (medium direct), turning with tongs every 5 minutes, until the skin is charred and a knife inserted in the dense flesh near the stem goes in easily (about 15-20 minutes). Transfer to a cutting board and allow to cool so you can handle.
Put lemon juice in a medium bowl. Cut the eggplant in half lengthwise and scrape the flesh into the bowl, tossing with the juice to prevent discoloring.
Add oil and stir with a fork until it is absorbed. The eggplant should be a little chunky. Stir in feta, onion, bell pepper, chile pepper (if using), basil, parsley, cayenne and salt. Taste and add sugar if desired.
Serve with toasted pita crisps or as a sandwich spread.