Leek and Swiss Chard Tart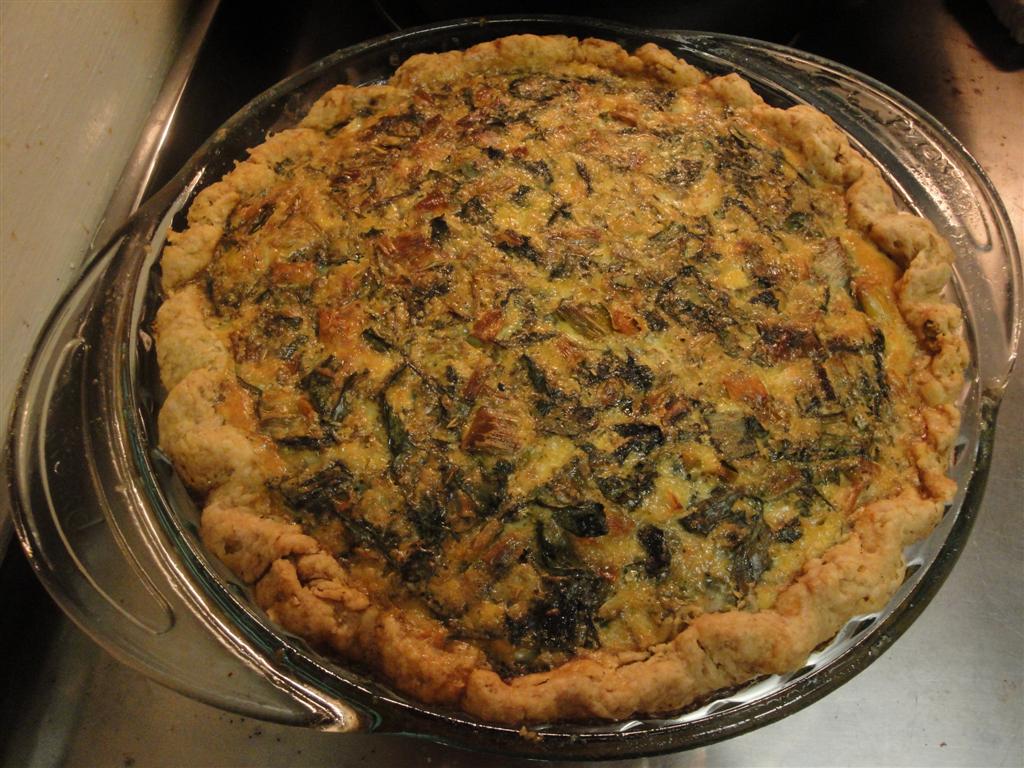 Here's another great recipe from epicurious.com, a quiche-like dish using leeks and swiss chard.  Feel free to experiment with quiche dishes like this – you can mix in almost any precooked meat or top with cheese.
Ingredients:
1 sheet frozen puff pastry, thawed
2 Tablespoons butter
3 large leeks, coarsely chopped
1 teaspoon dried thyme
2½ cups chopped Swiss chard (ribs removed, leaves chopped)
1¼ Cups whipping cream
3 large eggs
2 large egg yolks
1 teaspoon salt
¼ teaspoon ground black pepper
Pinch of ground nutmeg
Procedure:
Roll out pastry on floured work surface to 12 inch square. Transfer to a 9 inch glass pie dish. Trim overhang to 1 inch. Fold under, crimp edges. Cover, chill.
Melt butter in large non-stick skillet over medium low heat. Add leeks and thyme. Sprinkle with salt and pepper. Cover and cook until leeks are very tender but not brown, stirring often, about 10 minutes. Add chard, sauté until wilted, about 2 minutes.
Remove from heat. Cool. Position rack in bottom third of oven. Preheat to 425°F. Whisk cream and next 5 ingredients in large bowl. Mix in cooled leek mixture. Pour filling into crust.
Bake tart 15 minutes. Reduce heat to 350°F and bake until filling is puffed and set in center, about 15 minutes longer. Transfer to rack. Cool 10 minutes.