Farm News – August 13, 2018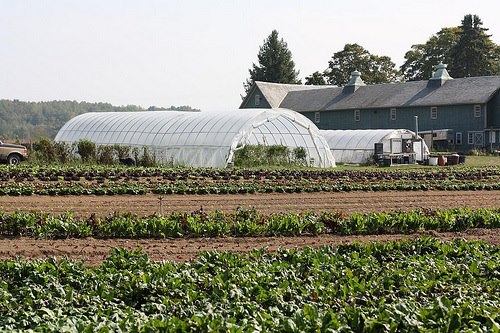 Hi Everyone! One of my members with family in Seattle informed me that the Pacific Northwest is unusually hot and dry, and that they are plagued with forest fires just as is California. So, my stereotype of the region as a rainy place may no longer hold true. Northern Europe, Scandinavia, Ireland, and the British Isles too, are suffering with drought and excessive heat, and many farmers have lost their entire crop. Meanwhile here in the Northeast it's the monsoon season! But there's nothing odd going on with the climate folks! I guess this is the new normal- that there is no normal; we just have no idea from season to season what to expect. I hate to be all doom and gloom but perhaps I am merely mirroring the predominant gray skies!
With regard to this week's harvest there are a number of question marks. Beans were on hiatus last week but are beginning to rebound. Everyone has had a melon once thus far and we begin another 2 week rotation for this week. The next planting of corn should mature late this week, so those who did not enjoy it last week will this time around. For the rest, we will ship fingerling potatoes as the starchy vegetable substitute. Some received ground cherries last week, and others will this week or next. What is certain is that greens are scarce. There will not be lettuce this time around, and the kale and chard have been smitten with bites and blights. Not to worry though — they will soon recover. Lettuce will return soon and we expect to have some tatsoi for you next. What is also certain is that tomatoes are abundant (and delicious).
The share for this week will be: Peppers, eggplant, tomatoes, rainbow carrots, summer squash, yellow onions, sweet corn or fingering potatoes, beans?, melons? And basil (with various types-lemon, Thai, red etc.) Premium shares will have a choice of turnips or daikon.  There will be tomatillos and hot peppers as an extra.
The fruit share for this week will be:  Nectarines and Jersey Mac apples.
Enjoy! Farmer John