Southern Summer Succotash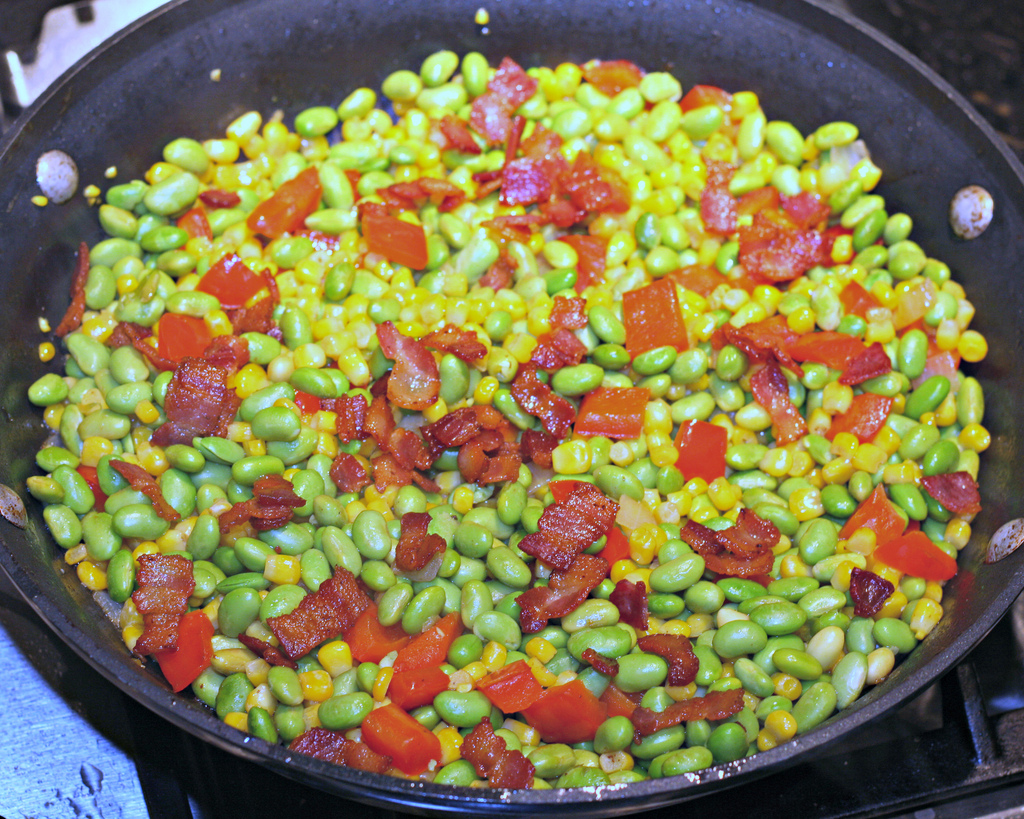 In the summertime, succotash just calls out for those fresh, abundant summer vegetables – fresh corn on the cob, lima beans, onions, tomatoes, and bell peppers – red, yellow, orange or green, or even a combination of a few. You could even add in some summer squash or zucchini, eggplant, or whatever is fresh at the farmers market or in your own backyard garden.
This recipe from Deep South Dish puts a southern spin on the classic Native American succotash.

Ingredients
3 medium ears corn
½ pound fresh or frozen baby butter (lima) beans
3 slices bacon, cooked and chopped, reserve drippings
½ cup chopped andouille or smoked ham or turkey, optional
1 cup sliced fresh or frozen okra, thawed
1 cup chopped Vidalia or other sweet onion
½ cup chopped bell pepper (green, red, yellow, orange or combination)
½ Tbsp minced garlic
½ Tbsp brown sugar
1 tsp kosher salt, or to taste
¼ tsp freshly cracked black pepper, or to taste
¼ tsp Creole or Cajun seasoning or hot sauce, optional
1 cup halved grape tomatoes
2 tsp fresh, chopped parsley
1 Tbsp unsalted butter, or 1/8 cup heavy cream
Procedure
Cook corn using your favorite method. Meanwhile, add lima beans to a small saucepan and cover with water. Bring to a boil, boil for 3 minutes, reduce to simmer and cook for 15 minutes, or until mostly tender. Drain, setting aside ½ cup of the cooking water. Rinse beans and set aside. Use a sharp serrated knife to carefully cut off the root end of the corn, remove husks and silks and cut corn off of the cob. Use dull edge of the knife to scrape down the milk; set aside.
Cook the bacon in a large skillet, remove bacon and set aside to chop, but leave drippings in the skillet. Add sausage or ham to drippings, if using, and cook over medium high until browned. Remove with a slotted spoon and transfer to the beans. Add the okra to the drippings and cook for about 3 minutes or until lightly browned. Add onion and bell pepper and cook another 4 minutes until softened; add the garlic and cook another minute.
Add the corn, sugar, butter beans, meat and seasonings to the skillet. Add some of the reserved cooking water, a little at a time, only if mixture is too dry. Reduce heat to medium low, cook and stir until everything is heated through, add bacon and parsley. Stir in butter or cream until warmed through; taste and adjust seasonings as needed. Serve immediately.