Farm News – June 22, 2020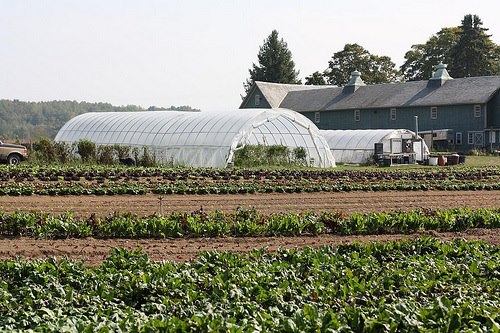 Hi Folks, Happy Summer Solstice!  Summer has officially begun, and the heat is on.  The scattered thunderstorms, which are our best chance of rain currently, have so far been scattering to the south and scattering to the north.  In my travels I have driven through torrential downpours various times, only to return to the farm and find it dry as a bone.  Hopefully, one will cross our path soon! 
In the meantime, we are moving the sprinklers around and, in some cases, allowing them to run late into the night.  We have many crops irrigated with drip irrigation, which requires much less water than overhead irrigation.  For the overhead sprinklers to have enough pressure we must close all the lines to the drip tape.  My workers set up them up before they leave in the evening, and I close the valve before I go to bed (or sometimes at 2 am when I wake up and realize that I forgot).
The peas continue to produce profusely (a preponderance of peas). Thanks to the many volunteers who have come out to lend a hand we are almost keeping up.  Last week most of you received English or shell peas; this week most will receive sugar snap.  If you got radishes last week there will be salad turnips for you this time.  We also have kohlrabi for you, which in my opinion is best eaten raw.  It can be grated into a salad or a slaw much like cabbage.
The share for this week will be:  Lettuce, peas, spinach, kale/arugula/broccoli raab, dill or cilantro, kohlrabi, and summer squash.  Premium shares will also receive a second lettuce and Swiss chard.
Enjoy!   Farmer John