Easy Cheesy Zucchini Bake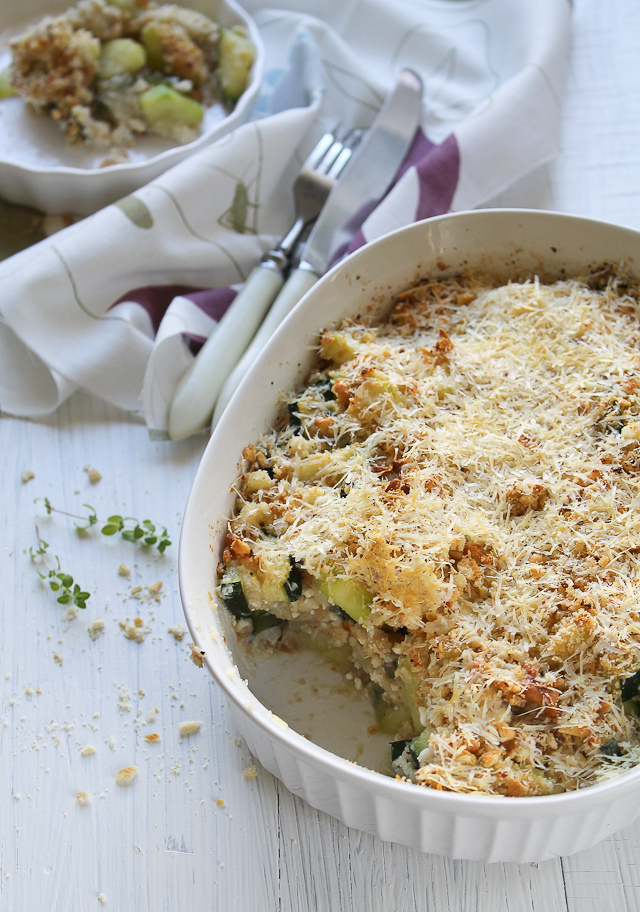 This recipe, from Penzey's Spice catalog, serves 4 easily and uses several squash and some of the herbs we should be getting this week.
Ingredients:
2 medium tomatoes, peeled and cut into wedges
2 small zucchini, sliced
2 small yellow summer squash, sliced
½ teaspoon thyme, dry or 1½ teaspoons fresh
1 teaspoon basil, dry, or 3 teaspoons fresh
1 teaspoon garlic powder
½ cup shredded Cheddar cheese
½ cup grated Parmesan or Romano cheese
⅓ cup dry bread crumbs (preferably whole wheat)
1 cup shredded mozzarella cheese (optional)
Procedure:
Preheat oven to 350 degrees.
Combine the tomatoes, zucchini, squash, seasonings and cheddar cheese. Place in a 1½ quart baking dish. Top with Parmesan or Romano cheese and bread crumbs. Bake at 350 for 45 minutes or until the vegetables are tender.
If using mozzarella, sprinkle the cheese over the top and let stand 5 minutes so the cheese melts before serving.