Grilled Eggplant Salad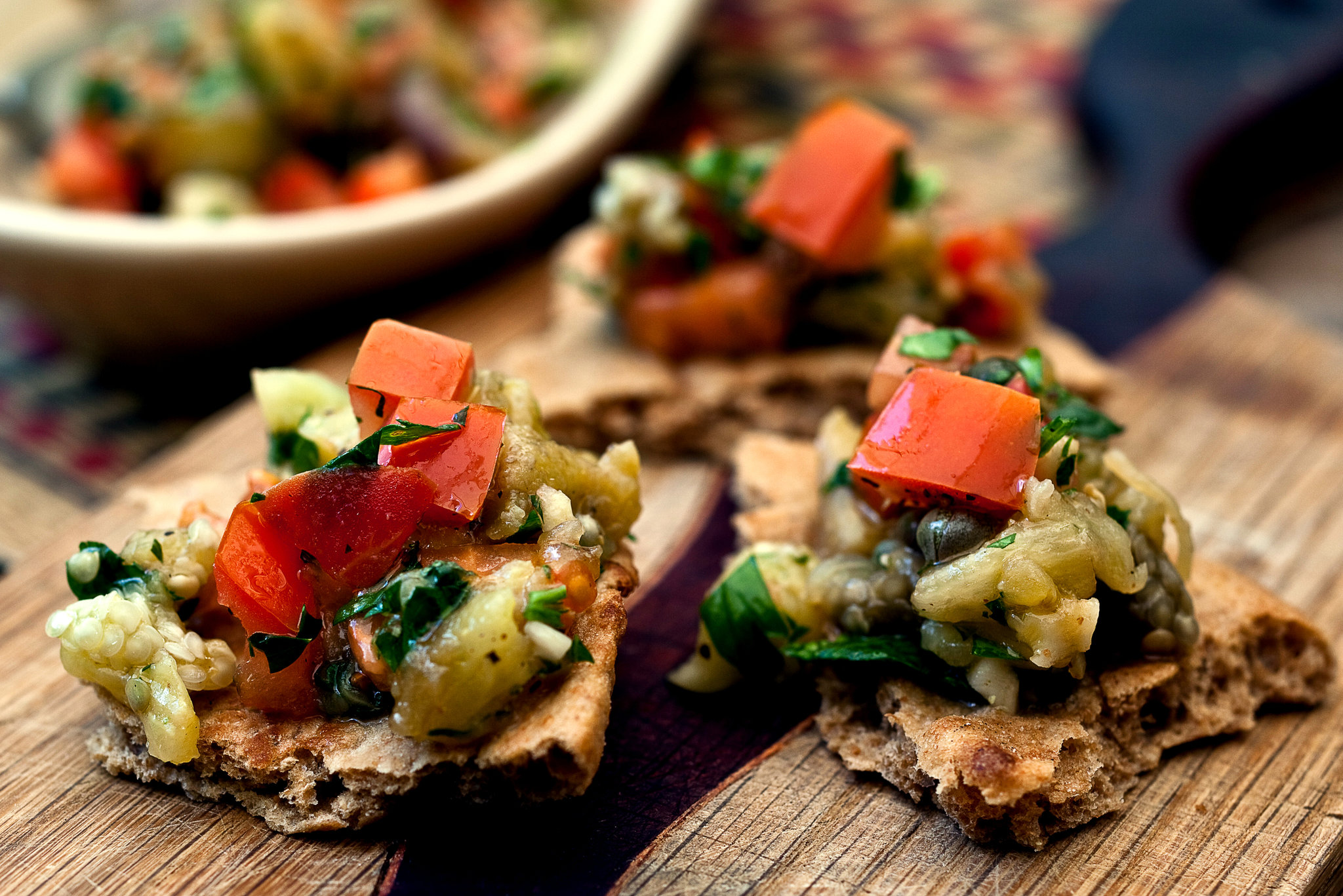 Here is a deeply flavored salad that can be prepared entirely outdoors, keeping the heat out of the kitchen.  This eggplant salad recipe comes from Melissa Clark of the New York Times.  It is fairly simple, tastes delicious, and impresses guests.  Yields about 1½ cups.
Ingredients:
1 large eggplant
1 plum tomato, diced
1 ½ teaspoons red wine vinegar
½ teaspoon kosher salt, more to taste
½ teaspoon chopped fresh oregano
2 garlic cloves, finely chopped
3 Tablespoons Extra Virgin Olive Oil
3 Tablespoons chopped parsley
Fresh ground pepper, to taste
Capers for garnish (optional)
Grilled pita bread, for serving
Procedure:
Heat grill to medium-high.  Prick the eggplant all over with a fork, put it on the grill, and close the grill cover.  Cook, turning occasionally, until eggplant is very soft and skin is blistered, about 15 minutes.  (Use a pair of tongs or grill mitts to test doneness by squeezing the eggplant; it should have a lot of give.)  Remove from grill.
When cool enough, scoop out the insides of the eggplant and coarsely chop (the skin will practically peel off).  Transfer to a bowl and toss with tomatoes, vinegar, salt, oregano and garlic.  Stir in oil and parsley; season with pepper and more salt if needed.  Garnish with capers if you wish (I didn't as it was pretty and tasty enough with just more parsley).
Serve with warm pita bread, crackers, or fill those filo cups!