Potato and Swiss Chard Gratin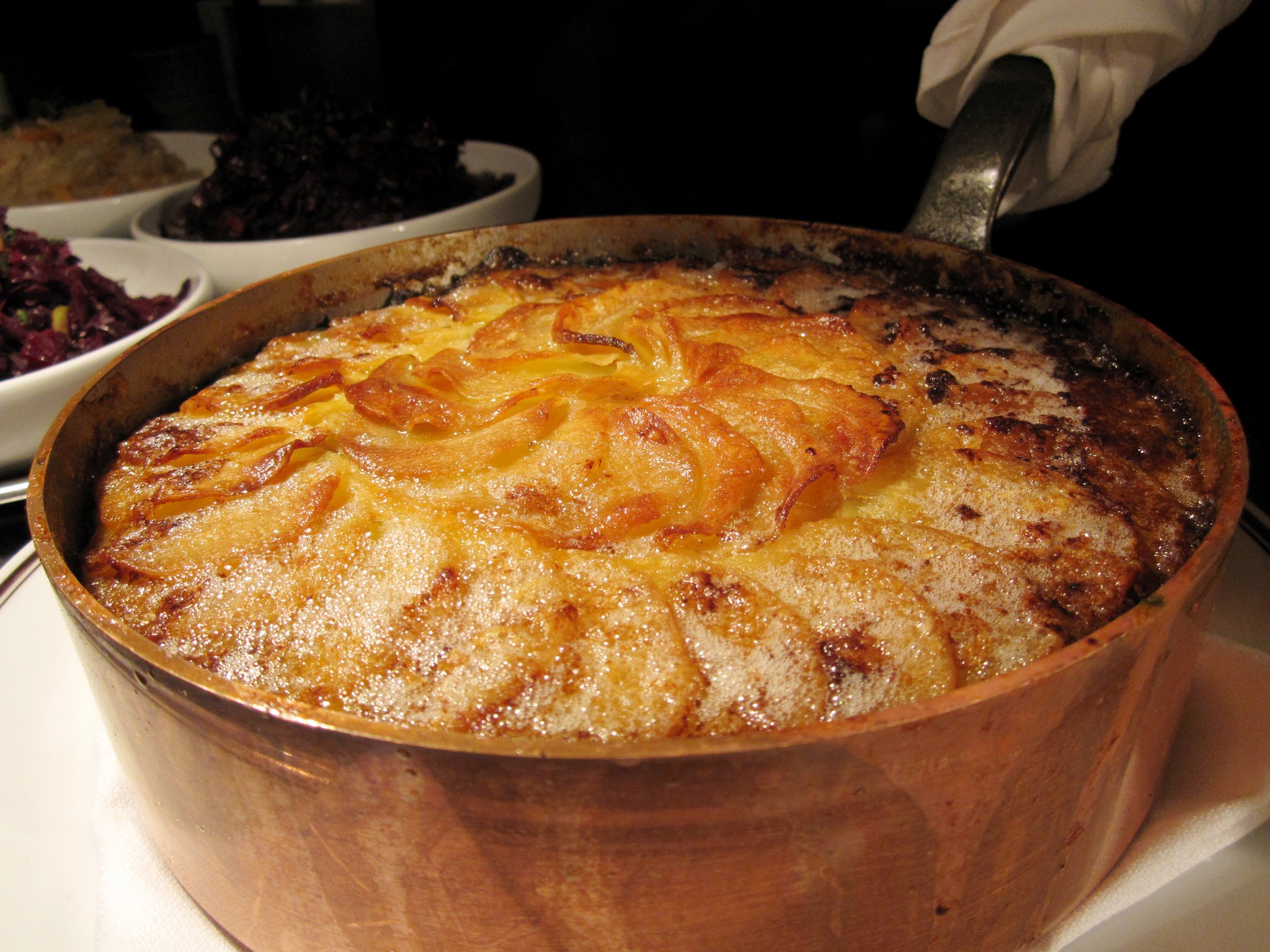 This recipe from The New York Times is a hearty, rustic dish of fork-tender potatoes, Swiss chard and bubbling Gruyère that can move easily from a satellite role to the centerpiece of a vegetarian holiday meal.
Ingredients:
Salt
1 lb swiss chard leaves and slender stems, stems cut into ¼ inch cubes
2½ cups heavy cream
1 garlic clove, smashed
1 small shallot, sliced
2 thyme sprigs
1 bay leaf
¼ teaspoon grated nutmeg
3 lbs Yukon Gold potatoes, peeled
1 Tablespoon butter, room temperature
Pepper
6 oz grated Gruyere cheese
Procedure:
Heat oven to 350°F and place rack in center.  Bring large pot of lightly salted water to boil.  Set a bowl of ice water on the side.  Boil the chard leaves until tender, 3 to 5 minutes, then transfer with slotted spoon to ice water.  Squeeze them dry and chop thoroughly.  Boil the diced stems until tender, 3 to 5 minutes.  Drain well and add to chopped chard leaves.
In a small saucepan, bring the heavy cream, garlic, shallot, thyme, and bay leaf to a simmer.  Cook until reduced by half, about 25 minutes.  Strain out the solids and add the nutmeg.
Meanwhile, slice the potatoes into 1/8 inch rounds with a mandoline or sharp knife.  Butter a 12-14 inch gratin dish. Assemble the gratin by layering the ingredients in this order: a single, slightly overlapping layer of one third of the potato slices, a sprinkling of salt and pepper, one third of the Gruyere cheese, half the Swiss chard and one third of the reduced cream.  Repeat once, and then top with one more layer of potato, salt and pepper, and the rest of the Gruyere and cream.
Bake until the top is browned and the potatoes are fork tender, about 45 minutes.