Beet and Cabbage Soup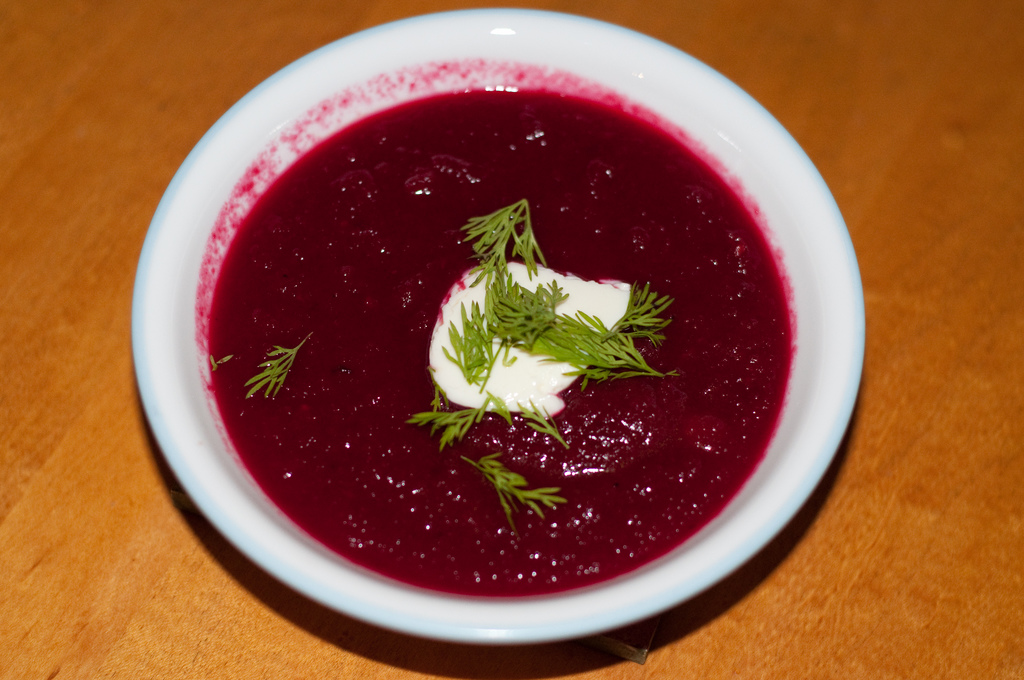 This recipe was recommended by a CSA member and can be found on epicurious.com.  This soup can be served hot or cold, and you can adjust the amount of jalapeño peppers (or season with cumin or chili powder) to spice it up.  Get creative!

Ingredients:
¼ cup (½ stick) unsalted butter
3 cups coarsely chopped peeled raw beets (from 1½ pounds)
2 cups chopped red onions
3 celery stalks, coarsely chopped
1 cup chopped red cabbage
3 Tablespoons finely chopped seeded jalapeño peppers
5 cups (or more) low-salt chicken/veggie broth or stock
2 Tablespoons fresh lime juice
Tortilla chips
Sour cream
Procedure:
Melt butter in heavy large saucepan over medium-high heat.  Add beets, onions, celery, cabbage, and chilies; sauté until celery is soft, about 10 minutes.  Add 5 cups broth and lime juice; bring to boil.
Reduce heat to medium-low.  Cover and simmer until vegetables are very tender, about 1 hour 15 minutes.
Working in small batches, puree soup in blender until smooth.  Return soup to pot; season to taste with salt and pepper.  Thin with more broth by ¼ cupfuls, if desired.  Ladle soup into bowls and top with tortilla chips and sour cream.