Italian Vegetable Stew (Ciambotta)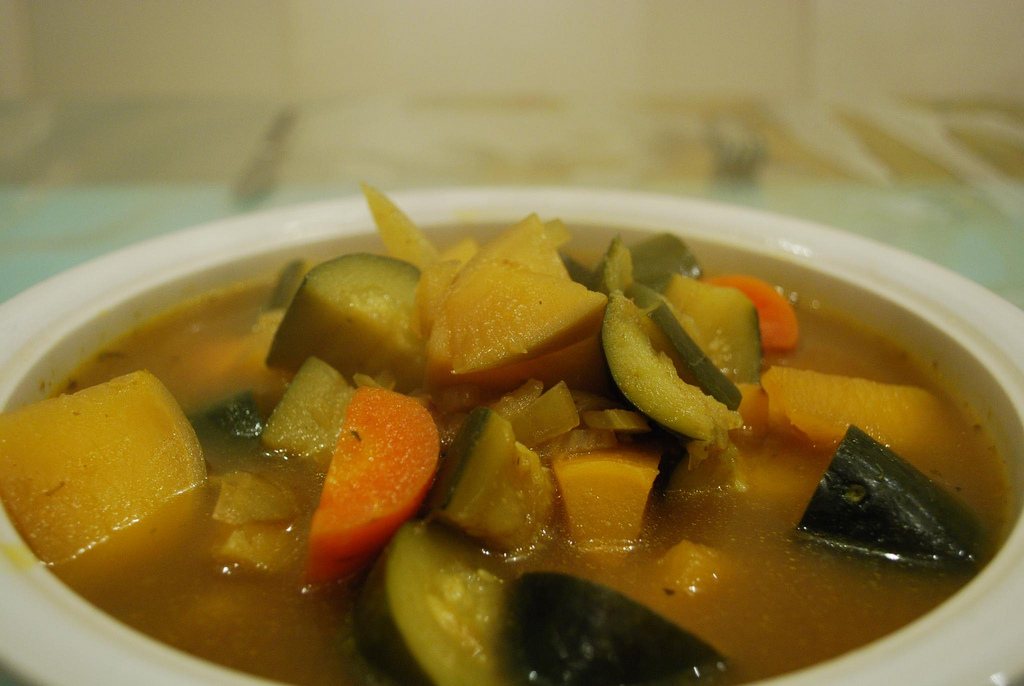 This recipe from Gourmet Magazine (via epicurious.com)  is a great way to put your summer CSA shares to use.  You can even use stock or bullion to kick up the taste.  Serves 6-8.
Ingredients:
⅓ cup extra virgin olive oil
2 med onions chopped
2 celery ribs, cut into pieces
3 carrots, halved lengthwise and sliced into pieces
4 garlic cloves, finely chopped
1¼ pound eggplant, cut into 1-inch cubes
½ cup water (or stock)
1¾ pound tomatoes, chopped (Or 1 28 oz can of whole tomatoes in juice)
2 sweet bell peppers cut into pieces
¾ pound green or yellow beans, trimmed and cut into 2 inch pieces
1¼ pound zucchini, halved lengthwise and cut into slices
¾ pound boiling potatoes (about 2 medium) peeled and cut into 1 inch pieces
Procedure:
Heat oil in a 7-to-8-quart heavy pot over medium-high heat until it shimmers. Add onions, celery, carrots, garlic and cook until pale golden, about 10 min, stirring occasionally. Add eggplant and water, and cook, covered, stirring occasionally, until eggplant is soft…about 10 min.
Stir in tomatoes (with juice and seeds) and peppers, then reduce to low and cook, uncovered, stirring occasionally, 15 min.
Meanwhile, cook beans in 3-4 quart saucepan of well salted boiling water until crisp, about 5 min. Transfer with slotted spoon to a bowl. Add zucchini to boiling water and cook until crisp-tender, about 5 min. Transfer with slotted spoon to bowl with beans. Add potatoes to boiling water and cook till just tender, about 10 min. Drain and add to zucchini and beans.
Add boiled veggies to stew and simmer, stirring, until all vegetables are very soft, about 15 min. Season with 1½ teaspoon salt and ½ teaspoon pepper.
Stew can be made up to 1 week ahead of time and chilled. It would probably freeze well.