Roasted Beet Soup with Feta and Dill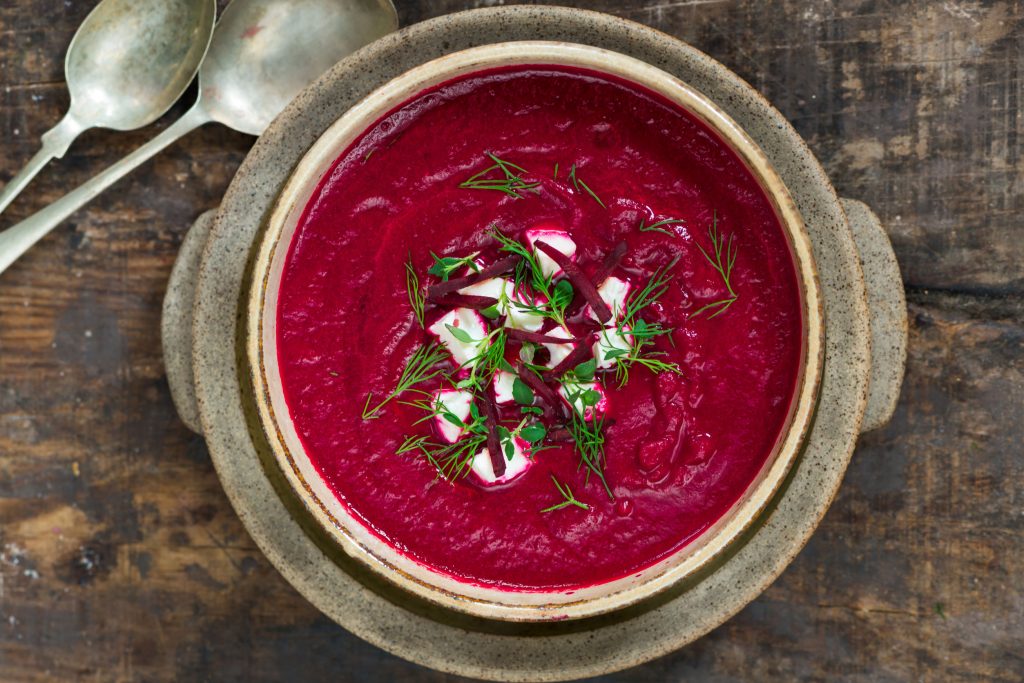 From the cookbook, Cooking from the Farmers' Market, once the beets are roasted, this soup is quick and easy.  A nice hunk of fresh bread would complete this meal.  Serves 4. Enjoy!
Ingredients:
3 large red beets, trimmed leaving 1 inch of stem
1½ Tablespoons olive oil
1 Tablespoon unsalted butter
¼ cup yellow onion, chopped
4 cups beef (or vegetable) broth
Salt and freshly ground pepper
½ cup crumbled feta cheese
1 Tablespoon dill, coarsely chopped
Procedure:
Preheat the oven to 350° F. Put the beets in a baking dish and drizzle evenly with the olive oil, turning them to coat well. Roast until tender when pierced with a fork or knife, about 1 hour, depending on size; remove from the oven. When cool, peel the beets and coarsely chop them. Set aside.
In a large saucepan over medium heat, melt the butter. Add the onion and sauté until translucent, about 2 minutes. Add the chopped beets and the broth, bring to a simmer, reduce the heat to low, and cook uncovered for about 10 minutes.
Transfer to a blender or food processor, or better yet, use an immersion blender right in the pot and puree until smooth. Once pureed, heat through over medium heat. Season with salt and pepper.
Ladle the soup into individual warmed bowls. Top with the feta cheese and dill and serve immediately.