Butternut Squash Lasagna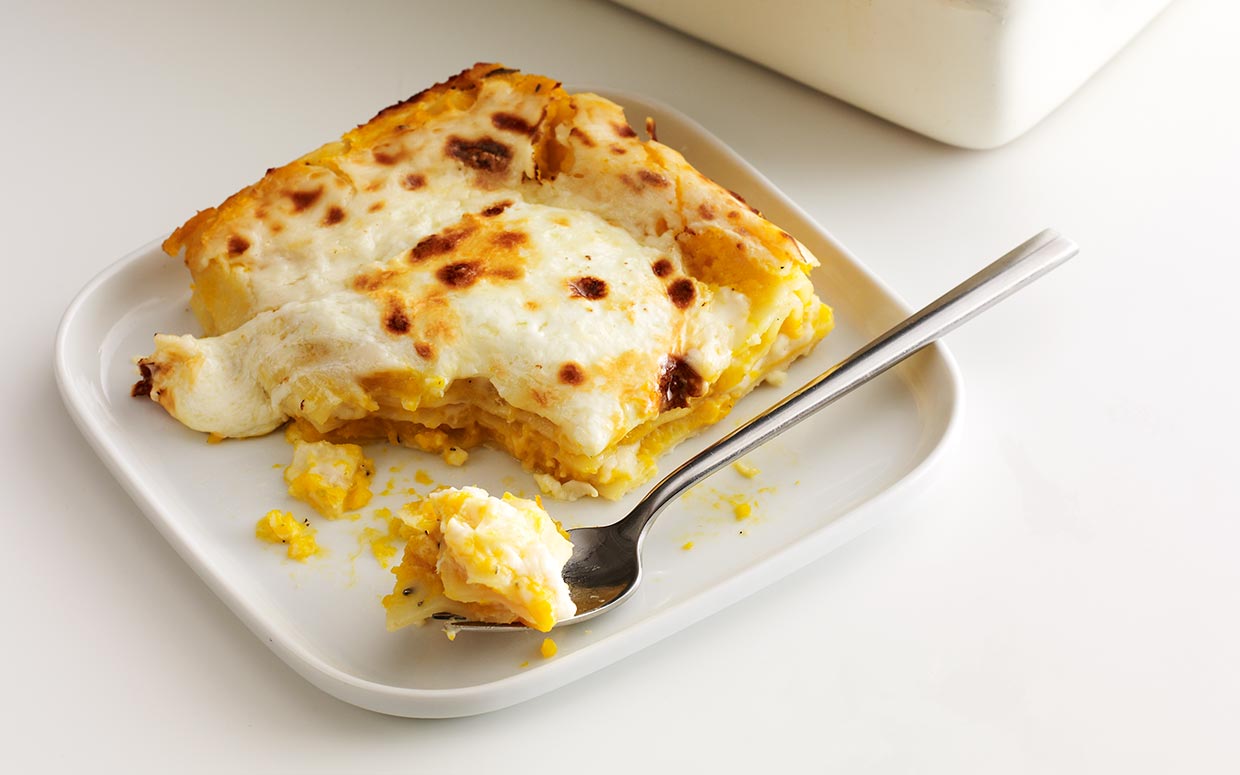 This is a perfect fall dish highlighting the mellow flavors of butternut squash, courtesy of Parade Magazine.  Can also substitute other winter squashes such as pumpkin, kabocha, or acorn for different flavors.
Ingredients:
1 large butternut squash (about 4 lb) cut into ½-inch pieces
2 Tablespoons extra virgin olive oil
Kosher salt and freshly ground black pepper
5¾ cups milk, divided
2 teaspoons dried thyme
7 Tablespoons flour
12 no-boil lasagna noodles
¾ lb fresh mozzarella, sliced ¼ inch thick
Procedure:
Preheat oven to 425º F. Cut squash in half and then in half again, scooping out seeds. Brush with olive oil, and season with salt and pepper.
Place on baking trays lined with parchment paper. Roast, rotating trays half way through, until tender and golden, about 40 minutes. Scoop out flesh from squash, and transfer to a food processor along with ¾ cup milk, thyme, and ¼ cup water. Purée.
Make white sauce:  Melt butter over medium heat in a medium saucepan, then whisk in flour and cook, whisking constantly until tan, about 5 minutes. Slowly whisk in remaining 5 cups of milk and cook, whisking, until thickened, about 10 minutes. Season with 2 teaspoons salt and ½ teaspoons pepper.
Spread about ½ cup white sauce evenly across bottom of 9×13 inch baking dish. Top with 3 noodles. Dollop 1 cup squash over noodles and use the back of the spoon to carefully spread into an even layer, covering noodles completely. Top with 1 cup of sauce, using back of spoon to spread evenly. Repeat the noodle, squash, and sauce layers 3 more times.
Arrange mozzarella slices on top and season with pepper. Cover with foil and bake for 50 minutes. Increase heat to 475º, remove foil and bake until mozzarella is golden in spots, 5 to 10 more minutes.
Let stand at least 15 minutes before serving. Serves 8-10.