Zucchini, Bean, and Blue Cheese Salad with Walnuts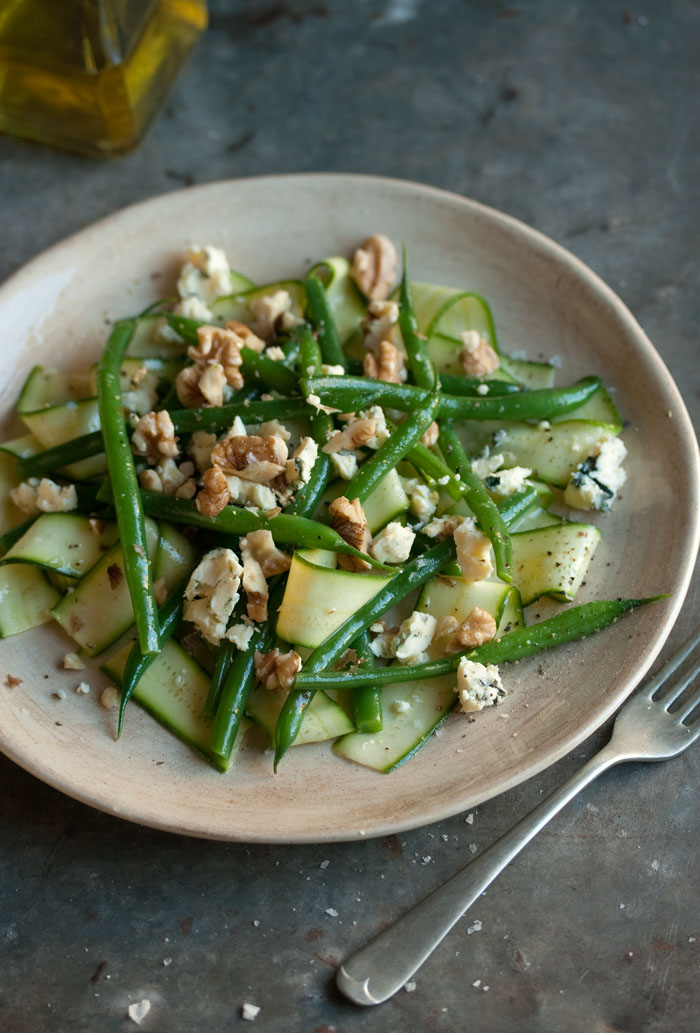 This salad, found on the drizzleanddip.com food blog, combines two of our favourite vegetables – the zucchini and the green bean. The crumbled blue cheese and chopped walnuts take it to another level.  This salad only takes a few minutes to make.  Work out quantities based on how many people you need to feed.
Ingredients:
Roughly equal parts shaved zucchini ribbons to green beans (stalks trimmed)
Blue cheese crumbled (about 40 g per portion)
Roughly chopped raw walnuts (a small handful per portion)
Dressing: (portion to serve 2 people)
3 Tbsp walnut oil
1 Tbsp lemon juice
½ tsp Dijon mustard
½ tsp honey
Salt and pepper
Procedure:
Bring a pot of water to the boil and blanch the beans for 3 minutes. Drain and shock with ice water. I rinse under a cold tap in a colander and then empty an ice tray of ice over the beans and allow them to cool.
Shave the zucchini using a wide flat vegetable peeler. Mix all the dressing ingredients a jar or bowl. Toss the beans, zucchini and dressing together and arrange on a flat plate or platter.
Crumble over the blue cheese and sprinkle over the nuts. Add a little more salt and freshly ground black pepper to serve.