Moroccan Style Stuffed Acorn Squash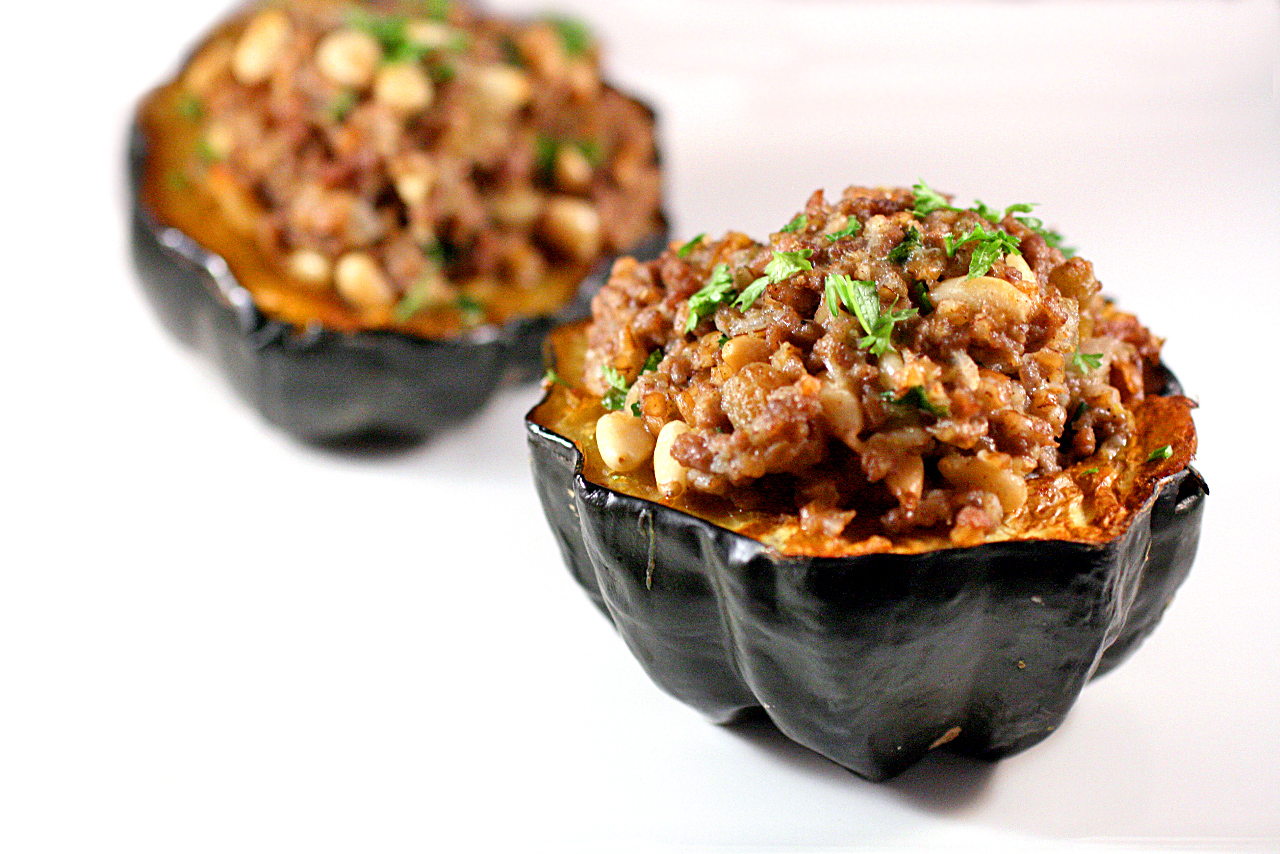 This recipe, hailing from an old issue of Whole Living by Martha Stewart (via The Bitten Word), serves 4. I've substituted whole wheat couscous or brown rice when I'm out of bulgur, just remember to adjust your cooking time.
Ingredients:
2 medium acorn squash (about 2 pounds), halved and seeded
2 teaspoons EVOO (extra-virgin olive oil)
¾ pound ground chuck (95% lean)
Ground cinnamon
Ground nutmeg
2 teaspoons coarse salt
½ medium onion, finely chopped
4 garlic cloves, minced
¾ cup bulgur wheat
2 cups water
¼ cup golden raisins
¼ cup fresh flat-leaf parsley, chopped
2 Tablespoons toasted pine nuts
Procedure:
Preheat oven to 400 degrees. Place squashes, cut sides down, in a 9-by-13- inch casserole dish. Bake until tender, 35 to 40 minutes.
Meanwhile, heat oil in a 4-quart pot with a tight-fitting lid over medium-high heat. Add ground beef, a pinch each cinnamon and nutmeg, and 1 teaspoon salt. Cook, stirring frequently, until browned and cooked through, 5 to 7 minutes. Transfer beef to a bowl or plate using a slotted spoon, keeping as much cooking liquid in the pot as possible.
Add onion, and cook until slightly translucent, about 5 minutes. Add garlic, and cook until fragrant, about 30 seconds. Add remaining teaspoon salt and the bulgur, and stir to combine. Add water, and bring to a boil. Reduce heat to medium-low, cover, and cook for 15 minutes. Remove from heat, and let stand, covered, for 5 minutes. Fluff with fork, and add reserved beef, the raisins, parsley, and pine nuts.
Scrape out baked squashes, forming ¼-inch-thick bowls, and fold flesh into bulgur mixture. Divide among squash halves, and return to oven. Bake until warmed through and tops are browned, 12 to 14 minutes.