Green Beans Au Gratin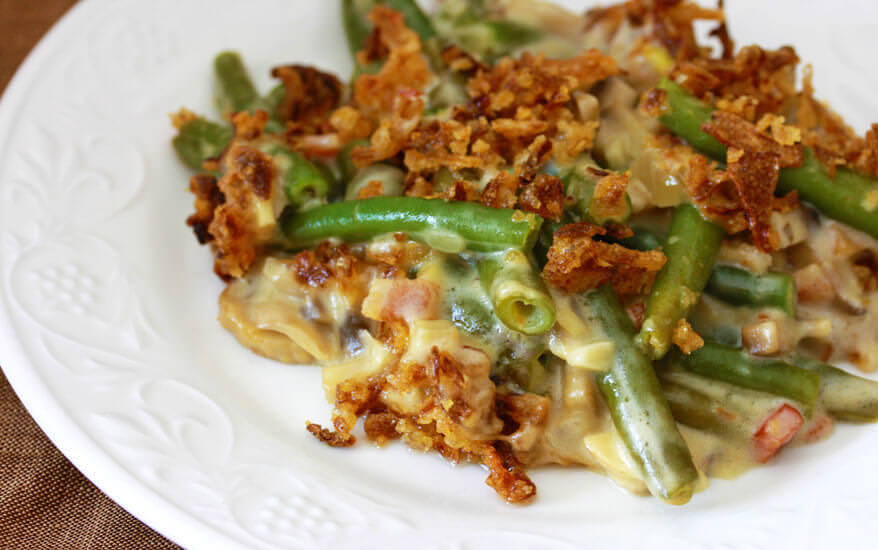 This recipe for Green Beans Au Gratin, found on food.com, is a real crowd pleaser.  It's a great comfort dish for big family meals and special occasions!  Serves 4.
Ingredients:
4 Tablespoons butter
4 Tablespoons flour
1 teaspoon salt
½ teaspoon pepper
⅛ teaspoon dry mustard
1½ cups milk
⅔ cup Swiss cheese, grated
3 cups green beans, cooked
¼ cup Parmesan cheese
¼ cup potato chips, crushed
3 slices bacon, cooked crisp, crumbled
1 teaspoon paprika
Procedure:
Preheat oven to 350°F.
Melt butter in pan.
Add flour, salt, pepper and mustard.
Cook over low heat until bubbly and smooth.
Add milk and cook until mixture thickens.
Add cheese, blend well, until all cheese is melted.
Add green beans to cheese mixture.
Pour into a buttered casserole dish and sprinkle with parmesan cheese, potato chips, bacon, and paprika.
Bake at 350°F for 30 minutes.