Goat Cheese Spread in Roasted Pepper Cups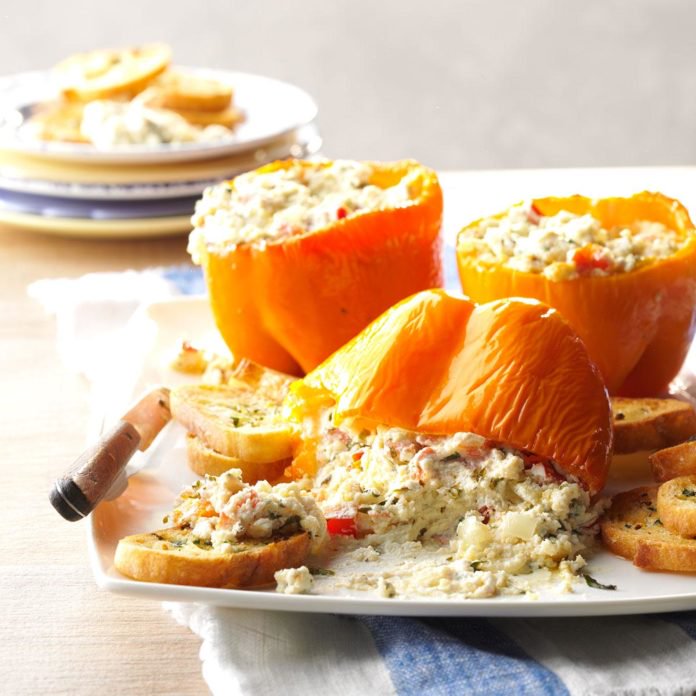 Whether you're entertaining at home or bringing this dish to a potluck, this roasted goat cheese spread and garlic toast will leave your guests talking about how good it is!  Found in Taste of Home Magazine, this recipe serves 8.
Ingredients:
4 medium bell peppers
3 Tablespoons olive oil, divided
1 medium onion, finely chopped
4 garlic cloves, minced
1 package (8 ounces) cream cheese, softened
8 ounces fresh goat cheese, softened
1 cup grated Parmesan cheese
2 to 3 medium tomatoes, seeded and finely chopped
2 Tablespoons minced fresh cilantro
1 Tablespoon minced fresh parsley
½ teaspoon hot pepper sauce
⅛ teaspoon salt
⅛ teaspoon pepper
Herbed Garlic Toasts:
½ cup butter, softened
1 Tablespoon minced fresh parsley
2 garlic cloves, minced
24 slices French bread baguette (¼ inch thick)
Procedure:
Remove tops and seeds from peppers; rub with 1 Tablespoon oil.  Place in an ungreased 8″ square baking dish.  Bake, uncovered, at 350° for 15-20 minutes.  Remove from oven; turn peppers upside down in baking dish to drain.
In a small skillet, sauté onion in remaining oil until tender.  Add garlic: cook 1 minute longer.  Transfer to a large bowl.  Stir in the cheeses, tomatoes, cilantro, parsley, pepper sauce, salt and pepper.  Spoon into pepper cups; return to baking dish.
Bake, uncovered, at 350° for 25-30 minutes or until heated through.
Meanwhile, in a small bowl, combine the butter, parsley and garlic; spread over baguette slices.  Place on an ungreased baking sheet.  Bake for 10-12 minutes or until lightly browned.  Serve with cheese spread.