Rainbow Carrot Stir-Fry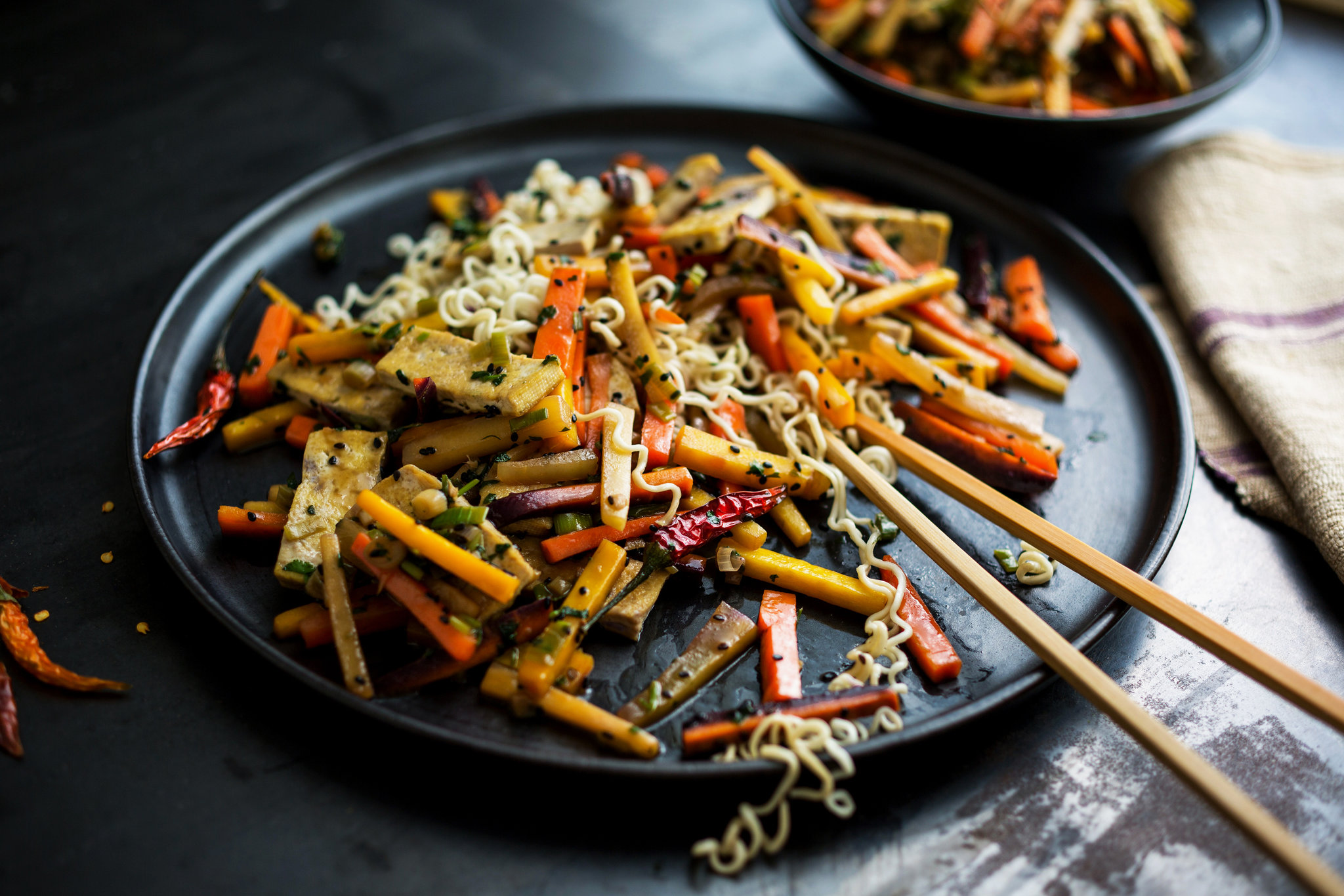 This colorful stir fry comes courtesy of the New York Times.  The list of ingredients in stir-fry recipes can look long, even daunting.  But the actual cooking goes very quickly, so it's important to have everything prepped and within reach of your wok.  Read through the recipe a couple of times before you begin cooking, because once you start, you won't have time to refer to it.  Serves 4.
Ingredients:
1 14-ounce box firm tofu, cut into dominoes
2 Tablespoons soy sauce (divided)
1 Tablespoon Shaoxing rice wine or dry sherry
¼ cup vegetable or chicken stock, or water
¼ to ½ teaspoon salt (to taste)
¼ to ½ teaspoon sugar (to taste)
1 teaspoon cornstarch or arrowroot
2 Tablespoons peanut or other neutral oil (divided)
2 to 3 teaspoons minced garlic (to taste)
2 to 3 teaspoons minced ginger (to taste)
1 pound carrots, preferably a mix of colors, cut into matchsticks
1 bunch spring onions -or- 2 bunches scallions, white or purple, and light green parts separated from dark green parts, chopped
1 Tablespoon black or toasted white sesame seeds
¼ cup chopped cilantro
Cooked grains or noodles, for serving
Procedure:
Drain and dry tofu slices on paper towels.  In a small bowl, combine 1 Tablespoon soy sauce, rice wine and stock. Combine salt and sugar in another small bowl.  In another bowl, dissolve cornstarch or arrowroot in 2 Tablespoons stock or water; stir well.  Have ingredients within reach of pan.
Heat a 14-inch flat-bottomed wok or 12-inch steel skillet over high heat until a drop of water evaporates within a second or two when added to the pan.  Swirl in 1 Tablespoon oil by adding it to the sides of the pan or wok and swirling, then add tofu and stir-fry until lightly colored, 1 to 2 minutes.  Add remaining soy sauce; stir-fry until no liquid is visible in pan.  Remove tofu to a plate.
Swirl in remaining oil; add garlic and ginger, and stir-fry for no more than 10 seconds.  Add carrots and white and light green parts of onions or scallions; stir-fry for 1 minute.  Add salt, pepper and sugar; toss together and add soy sauce mixture.  Stir-fry for 1 to 2 minutes, until vegetables are crisp-tender.
Return tofu to wok along with sesame seeds and stir-fry for 30 seconds.  Stir cornstarch or arrowroot slurry and add it to pan along with cilantro and onion greens.  Stir until everything is lightly glazed and remove from heat.  Serve with hot grains or noodles.