Daikon Fettuccine with Tomato Basil Sauce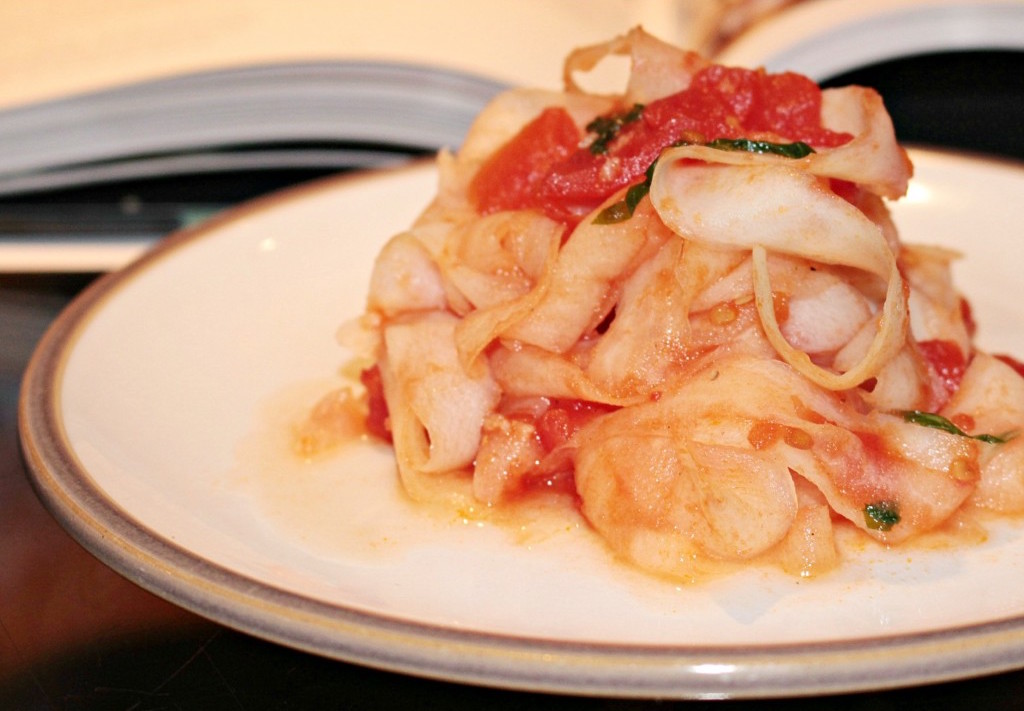 Chef Masaharu Morimoto's book, The New Art of Japanese Cooking, offers a different twist on the Italian classic. Why not give it a try? The recipe serves 3-4.
Ingredients:
1 pound daikon
1 can (14½ oz) plum tomatoes
3 Tablespoons extra-virgin olive oil
½ small onion, finely chopped
2 cloves garlic, minced
1 Tablespoon chopped fresh basil
Salt and freshly ground black pepper
Freshly grated Parmigiano-Reggiano cheese, for serving (optional)
Procedure:
Using a swivel-blade vegetable peeler, remove outer skin of the daikon and discard. Continue peeling down the length of the daikon, creating long ribbons that look like fettuccine noodles. Place daikon noodles in a large bowl, cover with salted water; let soak 15-20 minutes.
Meanwhile, drain tomatoes, reserving half the juice in a medium bowl. Squeeze tomatoes with your hands into the bowl of reserved juice; mash to combine. You should have about 2 cups.
In a medium heavy-bottomed saucepan, heat oil over medium- high heat. Add onions and garlic; cook until softened, about 3 minutes. Add tomatoes and salt. Bring to a boil and cook, stirring often, until sauce is thick, 10 to 15 minutes. Season with salt and pepper.
Drain daikon noodles and dry them using a kitchen towel. Gently add noodles to sauce; reduce heat to medium. Cook until noodles are just heated through, about 1 minute.
Divide among 3 or 4 serving plates; serve immediately, with cheese, if desired.