Asian Pickled Cabbage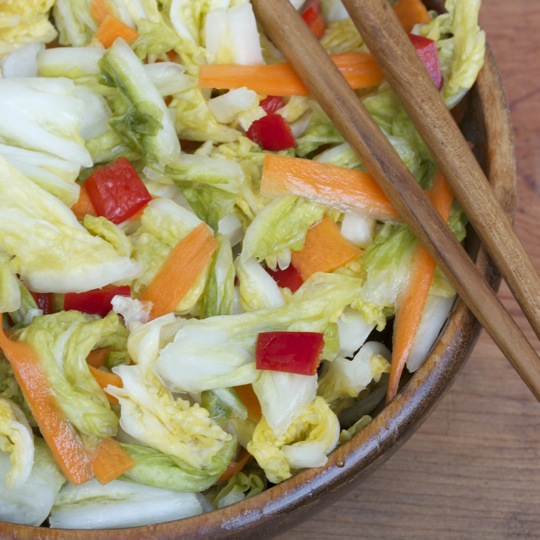 Here's a recipe for Asian Pickled Cabbage from thekitchn.com. It's tangy from the vinegar, sweet from the sugar, and just a bit spicy from the ginger — a perfect balance of flavors.  It's super easy and refreshing as a side dish on a hot day.  The recipe serves 2-4 but can easily be doubled.  
Ingredients:
1 large head Napa cabbage
1 large carrot, peeled
2-4 red chili peppers
1 cup rice wine vinegar
½ cup granulated sugar
1 knob fresh ginger (about 1½ inches), peeled and thinly sliced
1 Tablespoon kosher salt
Procedure:
Separate cabbage leaves from the base, wash and pat dry. Pile a few leaves into a stack, slice lengthwise, then rotate and chop into 2 inch pieces. Shave the peeled carrot into long slivers, then cut slivers in half. Seed and dice the chili peppers.
In a medium saucepan, bring the vinegar, sugar, sliced ginger and salt to a boil; turn off heat and set aside.
Combine cabbage, carrots, peppers in a large bowl or container, preferably with an airtight lid. Pour the hot vinegar mixture on top and toss until the veggies are thoroughly coated.
Refrigerate for at least 4 hours, tossing occasionally, or overnight. The cabbage will wilt and release a lot of liquid while it chills, so use a slotted spoon when serving.