Farm News- August 2, 2012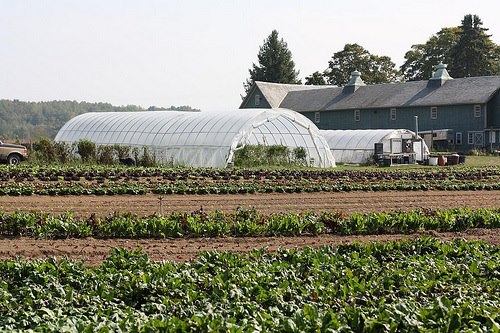 Hi Folks,
Moderation in all things; that's what my mother taught me. Mother Nature however, doesn't seem to want to follow this rule. In a few short days we have gone from the Mojave Desert to the Okefenokee Swamp; from dust bowl to mud bowl. We are a bit frustrated because we have thousands of transplants ready to be set out and cannot finish preparing the beds.
The wet weather also comes at an inopportune time for the onion crop, the tops of which are dying back in the field. The dry stems soak up water like a sponge and they begin to rot. We have already harvested several varieties that are in good condition and should store well. We presently have a white variety that we are trying to save, but the tops are so saturated I don't believe they will dry quickly enough. For this reason they will be in this week's share. Use them promptly; they will not keep.
We are back in the bean business again and I expect bountiful beans for at least the next 6 weeks. Melons are beginning to ripen rapidly and we believe there will be sufficient quantities for all groups this week. The most abundant, at present is a long yellow Korean type called Sun Jewel. These will be ripe when you receive them, so refrigerate them and use them soon. There are some watermelons ripening as well, however the deer have been busting through the fence and ravaging the crop.
Tomatoes are starting to ripen more prolifically and there may be enough for a couple in the share this week.
As is typical in midsummer, greens will be scarce for a few weeks. We expect to have sufficient Swiss chard for distribution this week, with perhaps some kale offered as a choice if we run short.
The share for this week will be:
Lettuce (likely a red Boston ), carrots, summer squash, peppers, eggplant, white onions, red cabbage, string beans, Swiss chard, potatoes, melons, choice of an herb, and possibly a few tomatoes.
Enjoy!
Farmer John