Farm News- July 26, 2012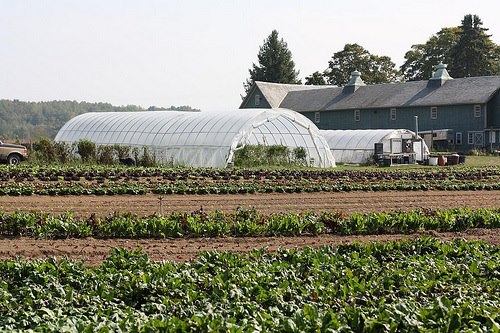 Hello Folks,
We finally got some rain! Nearly 2 inches of precipitation fell during Thursday's deluge and Friday's all day drizzle and showers. The Thursday storms were accompanied by gusty winds and a brief bout of hail, always a scary event. Some peppers were knocked over and a few tomato plants broken, but thankfully, no major damage. Now that the drought has broken we are able to resume planting. It's time to plant another round of carrots and beets for the fall and we have thousands of brassica family crops ready to be transplanted. I am also able to begin preparing more ground for direct seeding of spinach, arugula and other greens which will be ready in September. As usual for mid-summer, greens will be scarce for a few weeks. We have over-cut the kale and chard and will need to let it recover and regrow for a week or two. The main planting of beans is beginning to flower and should be ready for picking by next week. As promised, eggplant and sweet peppers are new to this week's lineup. Coming soon- tomatoes and melons! We believe there will be sufficient quantities of cauliflower for one more distribution this week. If you're lucky, you may even get one of the purple variety, called Graffiti, which are late bloomers.
Many thanks to the volunteers who came out to help with the onion harvest this Sunday. Thousands of pounds of onions were yanked and tied in bundles to be hung to dry and a good time was had by all, especially the kids. While the extra hands are helpful to us and free up my workers for other pressing tasks, perhaps the most valuable aspect of the volunteer program is the chance for children to learn how their food grows.
The share for this week will be:
Lettuce (probably a red romaine type), cauliflower, summer squash, cucumbers, peppers, eggplant, yellow onions, red potatoes, beets, daikon, and basil
Enjoy!
Farmer John