Farm News – May 12, 2013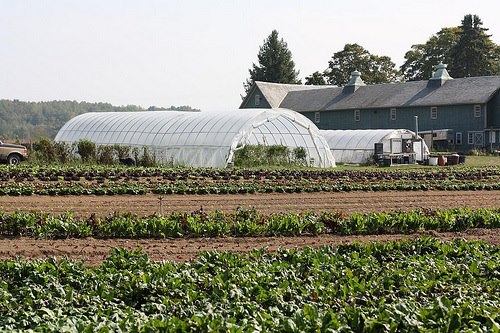 Hello Everyone, Welcome to the 2013 Starbrite Farm CSA season and to the first installment of my weekly updates. These will serve to apprise you of the work we are doing at the farm each week, of the success we are having and the challenges we may be facing, and what to expect in your share for the week. I strive to make them as informative and entertaining as possible.
Typically the first order of business is to talk (frequently complain) about the weather. In some ways this spring has been the opposite of last year's early warmth. Winter just didn't seem to want to loosen its icy grip, with very cold nights and blustery winds well into April. For some crops that we usually plant in early April, such as the peas, we had to delay planting because the soil was still too cold. Even after planting 10 days later than usual, 3 varieties of snap peas germinated so poorly that they had to be abandoned. I planted another variety of shell pea in their place.
In one very important way however, this spring has been similar to 2012; that is lack of precipitation. While not quite as severe as last year's spring drought, owing to some snow fall over the winter, it has nevertheless made our spring planting a challenge. Mid-April is when we begin transplanting thousands of lettuce, radicchio, and brassica (cabbage) family plants. These take root and begin to grow rapidly – if they have water. This is also the time when we are direct seeding many cool weather crops such as spinach, beets, and carrots that need moisture to germinate. During the last 3 weeks we have been moving the sprinklers several times a day to insure that the plantings would come up. Because of this we were unable to irrigate the transplanted crops except by driving around the field with a water tank dribbling water directly onto the thirsty plants.
Fortunately we have now gotten some good rain and the transplants are beginning to grow nicely. I delayed writing this update until after the predicted rain because I didn't want the first update to be all doom and gloom. I can also report that the spinach has germinated nicely, and beets, carrots and other crops are beginning to pop up their heads up as well. We have nearly finished planting more than 5,000 lbs. of seed potatoes and about 80,000 onion plants. Next week we will begin transplanting summer squash, tomatoes, ground cherries and eggplant and I will begin seeding beans as well as more arugula, turnips, radishes, and broccoli raab. We've been working hard and the greenhouse is full of plants almost ready to be set out. With just a little cooperation from the weather, we are poised to make this the best season ever!
Thanks for joining the CSA. I appreciate your support. Don't forget about the farm picnic coming up on June 8th!
Farmer John