Farm News – August 8, 2013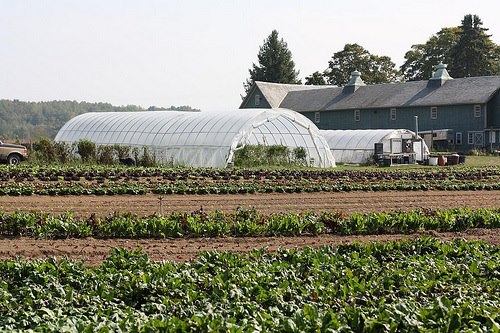 Hi Folks,
It's been a glorious week of weather with mild temps, plenty of sun and just enough rain. It's very unusual for early August to have such moderate daytime temperatures and chilly nights; it feels more like early September. It's been very comfortable for me and the workers out in the field, but I suspect the heat loving crops are not quite as happy. Fortunately we got the melons in early and they have benefited from the July heat; we have the sweetest and most delicious melons ever and they are ripening prolifically. Tomatoes, as well, are ripening rapidly and you will see a larger quantity in this week's share and even more by next week.
Cucumbers continue to abound, but the zucchini production is waning until the next planting starts producing in a few weeks. We are also in between plantings on the beans, with the 2nd planting just beginning to flower. We should have beans again for next week and increasing abundance as we head into late summer. We need to rest the kale and chard for one more week, so by next week we can offer a choice of the two. Lettuce, as well, should be ready to be cut by next week. Most of the beet tops have succumbed to blight, so we will be sending them without tops. We have some golden beets with nice leaf, so we will ship some bunches, as a choice for those who like to eat the greens. We also have celery which is a bit small but fairly sweet. The inner stalks should be good for salads; the outer ones are probably best cooked in soups or stir fries. For extras there will be okra, collards, fennel, and dandelion greens.
Thanks to those who came out to help with the onion harvest this past Sunday. We still have tons more to harvest, so we will host another volunteer day this Sunday 8/11 at 10 AM. Come on out and lend a hand!
The share for this week will be: Eggplant, tomatoes, peppers, red potatoes, cucumbers, beets, celery, red onions, choice of cherry tomatoes or ground cherries, and melons (some groups may receive watermelon).
Enjoy! Farmer John