Farm News – October 9, 2014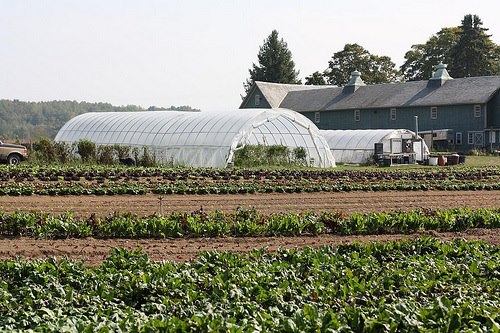 Hello Everyone, We received .6 inches of rain this past weekend. Although not as much as I would have liked, it will greatly benefit the fall crops. The timing was also less than desirable — raining all through my Saturday morning market and costing me thousands of dollars in lost income. C'est la vie!
The long term forecast looks a lot wetter during the coming weeks, so you can look forward to my complaining that it's raining too much in the near future. We narrowly escaped frost last night; going down into the mid-30's out here on the farm. It will warm again gradually and it seems we will have another 10 days or so before the next cold blast. This means we will continue to have tomatoes, peppers and eggplant for a couple more weeks. We have Kohlrabi ready to harvest and the broccoli crop is beginning to head. Most of you will receive kohlrabi this week and broccoli the following week. For a few groups it will be the reverse. We are also in rotation with summer squash and delicata squash, so if you received one last week you can expect the other this week. We have also been picking a small quantity of beans these past few weeks and a few groups have been shipped some. Hopefully with the rain the old plantings will begin to produce a little more. We also have a late planting that is about to begin flowering. We will cover these with an Ag fabric the next time we expect frost to try to get a late season crop.
We will host several volunteer days and farm visit event during October. The schedule will be announced shortly. We have a good harvest of pumpkins this year but they are simply too bulky to ship in the share to all members. These events will also be a chance for you to pick up a pumpkin (either an edible /pie type or decorative). If you are unable to attend on any of these dates you are welcome to visit us at one of our markets to receive a pumpkin.
The share for this week will be: Tomatoes, peppers, eggplant, potatoes, kohlrabi or broccoli, lettuce, choice of spinach or chard, delicata or summer squash, choice of red skinned turnips or celery root, yellow onions and choice of an herb. We have nearly 1,000 lbs. of carrot culls (small, broken, forked etc.). We will be sending these as an extra this week. There will be enough for 1 lb. per share. If you choose not to take them they will be donated to a food pantry or soup kitchen.
Enjoy!   Farmer John