Root Vegetable Gratin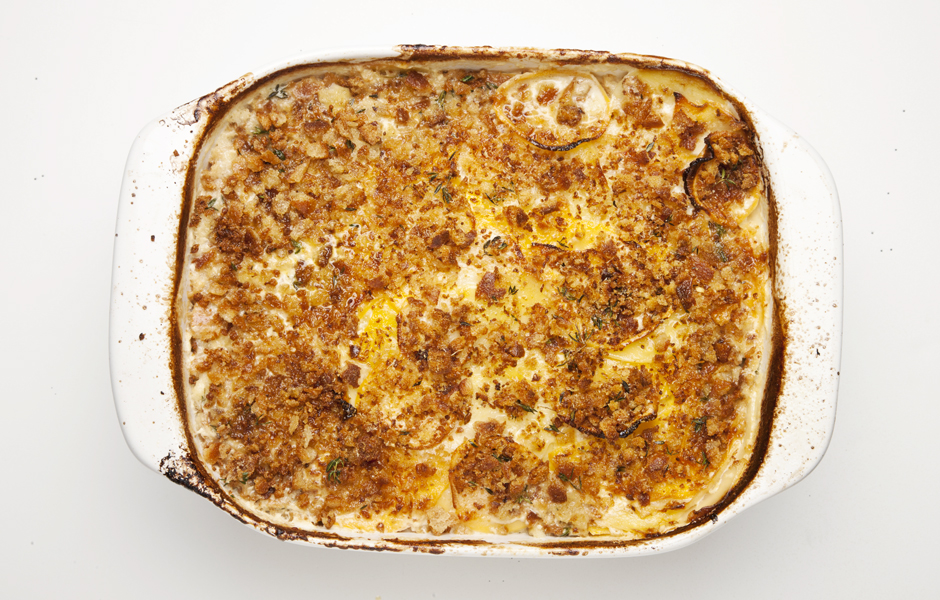 This recipe, from Bon Appétit Magazine is a perfect way to use your fall root vegetables (feel free to substitute), and would make a great Thanksgiving dish.  Serves 8.
The key to gratins is having all the ingredients—whether they're basic potatoes or the mixed root vegetables below—sliced the same thickness so they cook at the same rate. Make friends with a mandoline: It quickly yields precise, even slices.
Ingredients:
4 Tablespoons unsalted butter, divided, plus more for baking dish
1½ cups coarse fresh breadcrumbs
1½ cups grated Parmesan, divided
6 sprigs thyme plus 1 Tbsp. leaves
Kosher salt and freshly ground black pepper
3 cups heavy cream
1 cup low-sodium chicken broth
1½ pounds celery root, peeled, sliced 1/16" thick
1 pound rutabaga, peeled, sliced 1/16" thick
1 pound turnips, peeled, sliced 1/16" thick
1 pound Yukon Gold potatoes, peeled, sliced 1/16" thick
2 garlic cloves, thinly sliced
Procedure:
Preheat oven to 400°. Butter a shallow 2-qt. baking dish. Melt 2 Tbsp. butter in a medium skillet over medium-high heat. Add breadcrumbs; cook, stirring often, until golden brown, 5–7 minutes. Transfer to a small bowl and toss with ½ cup Parmesan and 1 Tbsp. thyme leaves; season with salt and pepper and set aside.
Bring cream, broth, thyme sprigs, and remaining 2 Tbsp. butter to a simmer in a medium saucepan over medium heat; season with salt and pepper. Remove from heat, cover, and let sit 10 minutes; discard thyme. Cover; keep warm.
Toss vegetables in a large bowl; season with salt and pepper. Arrange ⅓ of vegetables in dish and top with ½ cup Parmesan. Repeat layers; top with remaining vegetables. Pour cream mixture over; place a piece of parchment paper directly on top of gratin.
Bake until vegetables are crisp-tender and cream is thickened, 50–60 minutes. Uncover, top with breadcrumb mixture, and bake until gratin is bubbling and breadcrumbs are brown, 15–20 minutes longer. Let sit 10 minutes before serving.