Farm News – June 13, 2016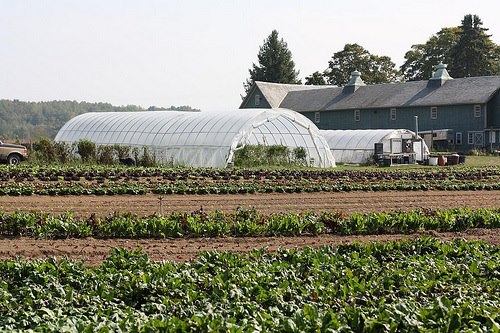 Hello Everyone!  So we waited with a mixture of anticipation and dread for the severe storms predicted for Saturday.  We badly need the rain but worried about the high winds and potential for hail.  In the end we got no rain at all, only 2 days of high winds that have been wreaking havoc with our crop covers and drying out the soil even more.  There is some hope for precipitation at the end of the week; in the meantime, we will be moving the sprinklers around from field to field to keep the crops growing and the seeds germinating.
The good news is that the shares size will nearly double this week with lots of new crops beginning to mature.  The broccoli has begun to head and we will send it to some groups as availability allows.  Those not receiving broccoli will get kale for this week and broccoli next week or the week after.  We will also be sending bunches of broccoli leaf which is almost as nutritious as kale and in my opinion more palatable.  I sauté the leaf with onions and blend this with milk for a delicious base for cream of broccoli soup.
Summer squash has also started to produce small quantities for this week; more in weeks to come. We have peas, mostly English – the shell type. The sugarsnap peas will become more abundant in the coming weeks.  For lettuce we have a speckled romaine-an heirloom variety called Forellenschlus.  The heads are usually fuller but with the drought they may begin to bolt and will get bitter.  Garlic scapes are here!  These are the flower tops of the plant and can be grilled, chopped finely, and sautéed or blended to make a pesto.  Also you will receive Hakurei salad turnips, a sweet, baby size treat intended to be eaten raw, although many folks prefer to cook them.  They have beautiful greens – great for braising or sliced into ribbons mixed into salad.
I hope to see many of you at our farm visit picnic this Saturday.  The weather looks good.  If you can't make it on Saturday, you are welcome to come on Sunday.  The address is 141 Brighton Rd. Andover NJ 07821
The share for this week will be: Forellenschlus romaine, salad turnips, garlic scapes, spinach (2 bunches), broccoli or kale, summer squash, choice of escarole or endive (frisée), peas, bok choy, and choice of cilantro or dill.    
Enjoy! Farmer John