Farm News – October 8, 2018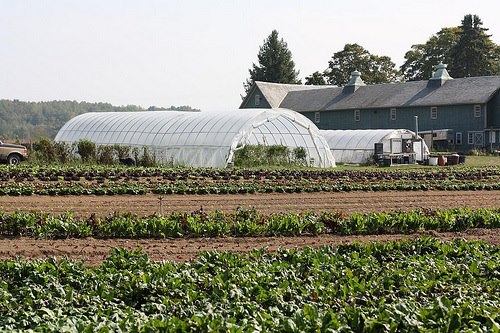 Hello Everyone! So last week was forecast to be free of rain but they changed it at the last minute. I thought we might get a little light rain overnight, and it began to drizzle as I rushed to finish seeding some spinach. By the time I got back to the house and showered, it was raining harder than I think I have ever seen. We received over 3 inches in about 3 hours. The farm is a muddy mess again, and I'm still waiting to see where those spinach seeds ended up!
I was excited last week to see that the broccoli was beginning to head up. We have planted nearly eight thousand broccoli plants for the fall. On Sunday while walking the fields, I saw that most of the heads had turned black, a condition aptly named black rot that is caused by a bacterium. It appears that we will lose most of this planting (about 2,000). We are cutting what we can that is good and removing the diseased heads in hope of some side shoot production. Hopefully weather conditions will not be as conducive to this disease when the next planting starts to head. We will ship what we have to a few groups and cabbage to the rest. I recommend that you cook it and eat it quickly as it may not keep. Not to worry though, plant diseases pose no threat to humans. We have some beautiful bok choy for you, and we have started digging the sweet potatoes. We are shipping them without washing because they keep better that way. We have tried to brush most of the soil off but cannot be too aggressive because the skins are still tender. I recommend washing them immediately before preparing them.
The share for this week will be: Lettuce, radishes, bok choy, potatoes, peppers, choice of arugula, tatsoi or mizuna, sweet potatoes, yellow onions, choice of parsley or cilantro and green cabbage or broccoli. Premium shares will receive endive (frisée).
The fruit share for this week will be: Fuji apples and Devoe pears.
Enjoy! Farmer John