Fried Oniony, Garlicky Green Beans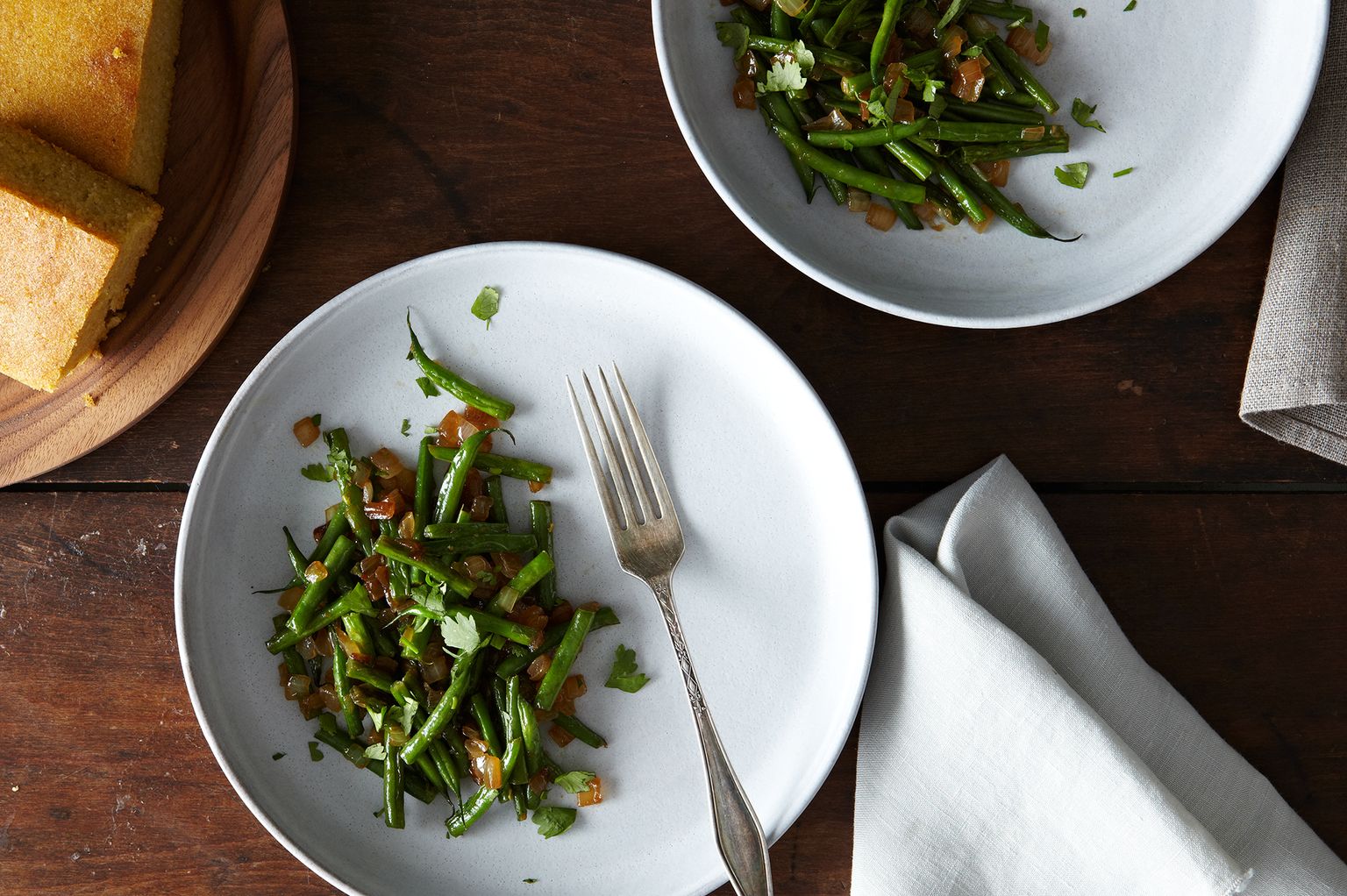 This is a pretty simple recipe, via the Food52 food blog, that tastes great no matter how you serve it — hot, at room temperature, or even cold, the beans are so tasty you'll be surprised. The timing on this will depend on how fresh and tender your beans are and whether you are using regular beans or haricots verts, which will take less time to cook. The beans should be cooked so that they're neither mushy nor too hard, but somewhere in the middle. There will be some reliance on intuition here, so the estimates on browning time are just that — estimates. Use your eyes and taste buds before deciding when these are done.
Ingredients:
2 to 3 Tbsp olive oil
4 cups regular green beans, chopped into 1" pieces
a few Tablespoons water
1 cup evenly diced onion
1 pinch salt
1 clove garlic, zested with microplane
2 splashes soy sauce
1 to 2 lemon wedges
½ handful chopped cilantro, for garnish
Procedure:
Heat olive oil in a large skillet on a medium heat, and add the beans.  Let them cook for about 4 minutes.  The heat should be high enough that the beans are sizzling.  They should be getting brown and a little wrinkled, but they should not burn.
Continue to cook, adding a Tbsp or so of water and swishing it around.  Push the beans to the edges of the pan to create a space in the middle.  Place the onions into the space you have created and sprinkle a little salt on top.  Let the onions cook for a few minutes, then slowly start to mix everything together.  At this point everything should be getting pretty brown.  Add the garlic and mix it in as you stir.
When the onions are nice and brown, which should take 5-7 min, add a splash or two of soy sauce and a squeeze of lemon.  Cook 2 more min, then serve garnished with chopped cilantro.