Sweet-and-Sour Celery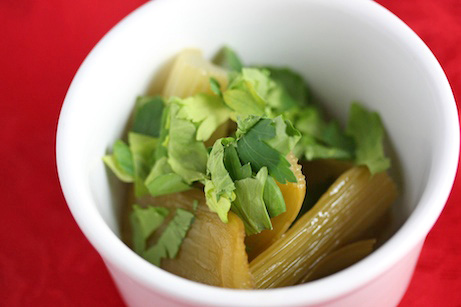 Honey provides the sweet, and lemon juice the sour, in the Passover dish known as apio, which has origins in Turkey.  Found on epicurious.com, this recipe serves 8 as a side dish.

Ingredients:
¾ cup water
¼ cup fresh lemon juice
3 Tablespoons olive oil
3 Tablespoons mild honey
4 pounds celery (2 to 3 bunches; any dark green outer ribs peeled), cut into 2-inch pieces, reserving about 1 cup inner celery leaves
¼ cup finely chopped flat-leaf parsley
Procedure:
Cut a round of parchment paper to fit just inside a wide heavy 6-to 8-quarts pot, then set round aside.
Simmer water, lemon juice, oil, honey, ¾ teaspoon salt, and ½ teaspoon pepper in pot, stirring, until honey has dissolved. Stir in celery (but not leaves) and cover with parchment round. Simmer until tender and liquid is reduced to about ¼ cup, 35 to 40 minutes.
Meanwhile, coarsely chop reserved leaves.
Serve celery sprinkled with celery leaves and parsley.