Traditional Moussaka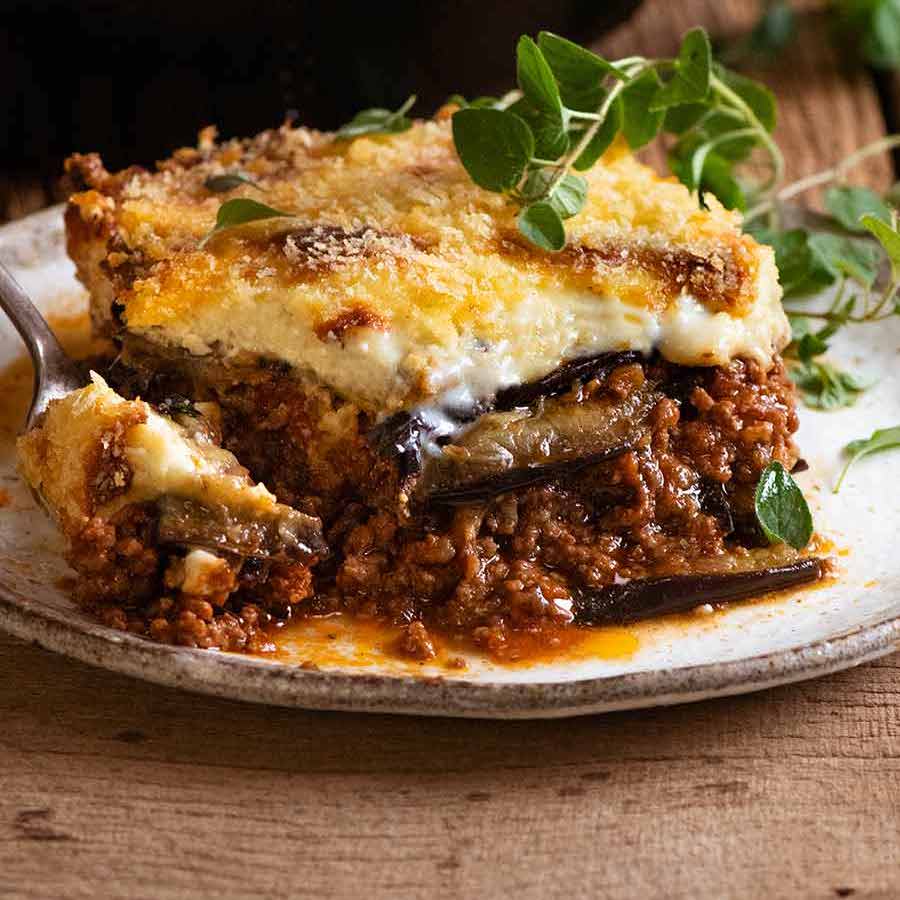 Moussaka is one of the most popular dishes in Greece, served in almost every restaurant and prepared in every household on special occasions and big family meals!  Here's a classic recipe submitted by a fellow CSA member.  Serves 10-12.
Ingredients:
4 medium eggplants
Salt
4 Tablespoons butter
2 pounds ground beef or lamb
3 onions, chopped
2 Tablespoons tomato paste
¼ cup parsley, chopped
½ cup red wine
Salt and Pepper
½ cup water
Dash cinnamon
2-3 eggs, beaten
½ cup grated hard cheese (such as Parmigiano-Reggiano or Kefalotyri)
½ cup bread crumbs
6 Tablespoons butter
6 Tablespoons flour
3 cups hot milk
Salt and Pepper to taste
Dash nutmeg
4 egg yolks lightly beaten
cooking oil
Additional grated cheese
Procedure:
Remove ½-inch wide strips of peel lengthwise from eggplants, leaving ½-inch peel between the strips.  Cut into thick slices, sprinkle with salt, and let stand between two heavy plates while preparing the meat and béchamel sauce.
Prepare meat:  In frying pan, melt 4 Tablespoons butter, and in it sauté meat and onions until meat is browned.  Add tomato paste, parsley, wine, salt and pepper, and water.  Simmer until liquid is absorbed.  Cool.  Stir in cinnamon, eggs, cheese, and half the bread crumbs.
Prepare béchamel sauce:  In saucepan, melt 6 Tablespoons butter over low heat.  Add flour and stir until well blended.  Remove from heat.  Gradually stir in milk.  Return to heat and cook, stirring, until sauce is thick and smooth.  Add salt and pepper to taste, and the nutmeg.  Combine the egg yolks with a little of the hot sauce, then stir egg mixture into the sauce and cook over very low heat for 2 minutes, stirring constantly.
Brown eggplant slices on both sides in hot oil.
Assemble:  grease an oven-proof casserole dish and sprinkle the bottom with remaining bread crumbs.  Cover with a layer of eggplant slices, then a layer of meat, and continue alternating until all eggplant and meat is used, finishing with a layer of eggplant.  Cover with béchamel sauce, sprinkle with additional grated cheese, and bake in 350° oven for 1 hour.  Serve hot.