Romanesco Cauliflower in Spicy Tomato Sauce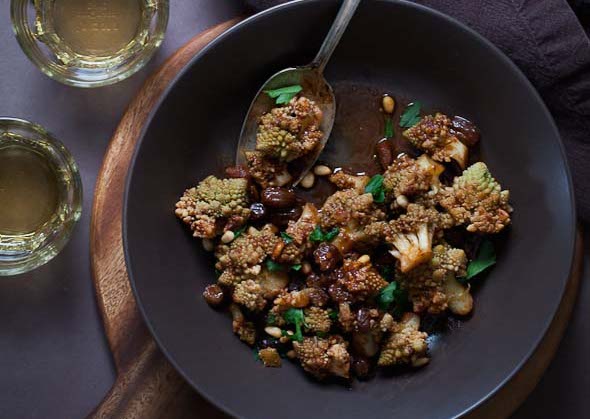 Although you can use this week's lime green beauty in any dish you would ordinarily use cauliflower, this recipe specifically for Romanesco hails from the website gourmandinthekitchen.com and serves 4.
Ingredients:
1 medium head of Romanesco or regular cauliflower, cut into florets
2 Tablespoons butter or olive oil
2 small garlic cloves, finely chopped or minced
Crushed red pepper flakes (about ⅛ to ¼ teaspoon depending on how hot you like it)
Sea salt
3 Tablespoons concentrated tomato paste
2 Tablespoons raisins
¼ cup black olives, chopped
¾ cup water
¼ cup dry white wine
(for alcohol-free version, substitute 2 Tablespoons red wine vinegar and 2 Tablespoons water)
¼ cup pine nuts, toasted
2 Tablespoons chopped flat leaf parsley
¼ cup grated fresh Pecorino Romano cheese, for serving (optional)
Procedure:
Bring a large pot of salted water to a boil. Add cauliflower and blanch for 2 minutes. Drain and set aside.
In a wide sauté pan warm the butter over a medium-low heat. Add the chopped garlic and a pinch of red pepper flakes and a pinch of salt. Sauté 1 minute until garlic is fragrant but not browned.
Stir in the tomato paste, raisins, olives, water, and wine. Raise the heat and bring the sauce to a boil.  Reduce heat to low, add the blanched cauliflower and simmer covered for 10 minutes. Top with parsley and pine nuts.
Serve with Pecorino cheese if desired.