Baby Turnips and Turnip Greens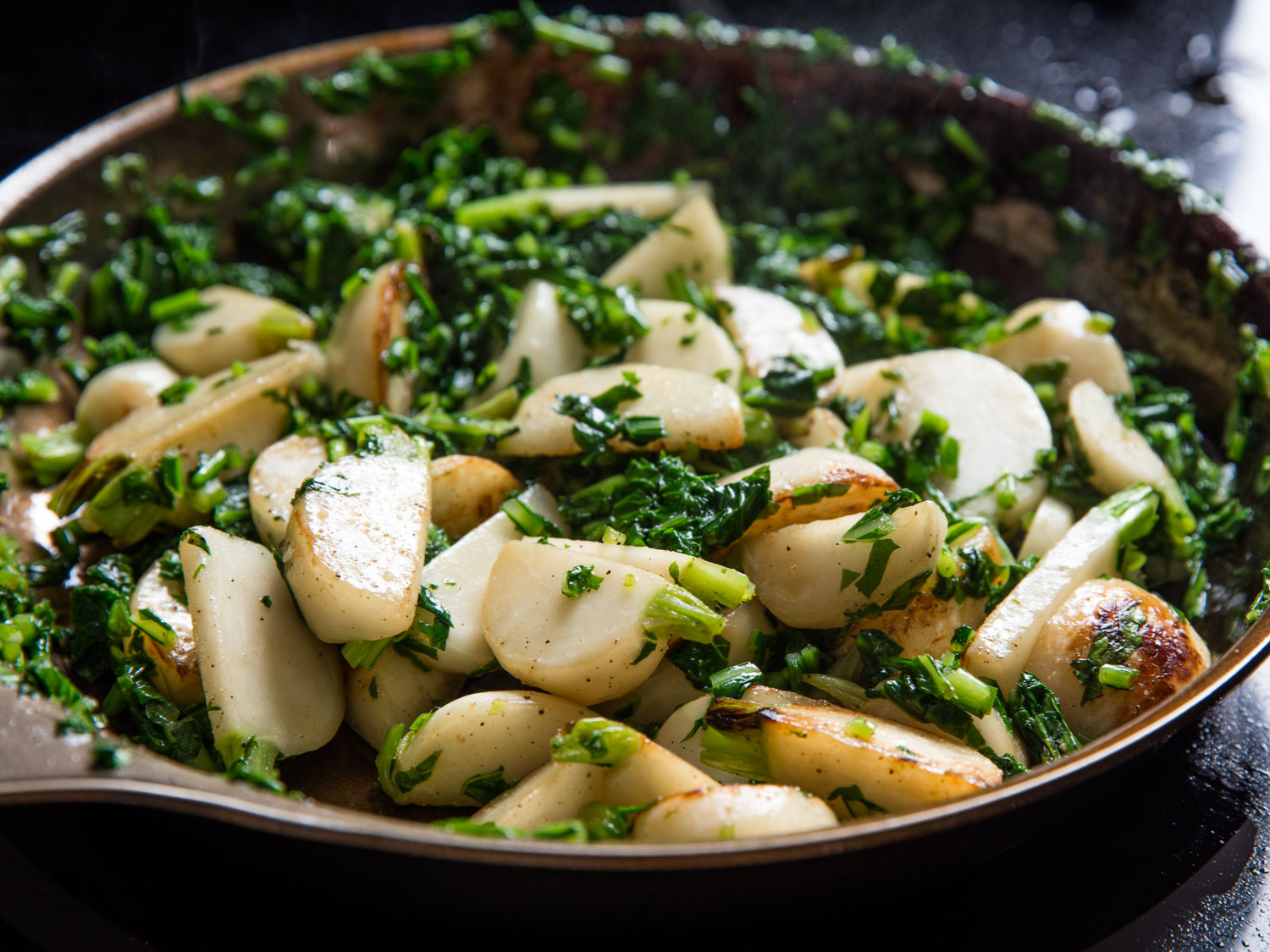 The following recipe, taken from the William Sonoma cookbook, Cooking from the Farmers' Market, is a nice and easy way to use the turnips and its greens at once. As we expect the Hakurei to be small turnips, you can ignore the recommendation to trim the leaves in the recipe (below) but may follow it when using Fall turnips. The recipe yields 4 servings. Enjoy!
Ingredients:
1 pound baby turnips with greens attached, yellow or damaged leaves removed
2 Tbsp olive oil
2 slices bacon, cut crosswise into pieces ¼ inch thick (can substitute turkey bacon)
1 Tbsp unsalted butter
1 large shallot, thinly sliced
Salt and freshly ground pepper
Water (can substitute vegetable stock)
Procedure:
Leaving the greens on the turnips, trim the root ends. [If the turnips seem large, cut off the greens, leaving about 1 inch attached. Cut the greens into 1½ inch strips, and halve the turnips.]
In a large, heavy frying pan over medium heat, warm 1 tablespoon of the olive oil.
Add the bacon and cook until the fat has been rendered, about 5 minutes. Pour off the fat, leaving the bacon in the pan. Return the pan to medium-high heat and melt the remaining 1 tablespoon olive oil and the butter.
Add the shallot, season with salt, and sauté for 1 minute.
Add the turnips and greens and season with salt, and pour in just enough water (or vegetable stock) to cover the bottom of the pan. Cover and cook until both the turnips and greens are tender, 4-7 minutes, adding water if the pan dries out. If necessary, uncover and continue to cook until the liquid has reduced.
Transfer to a serving bowl, season with salt and pepper to taste, and serve right away.