Best Cobb Salad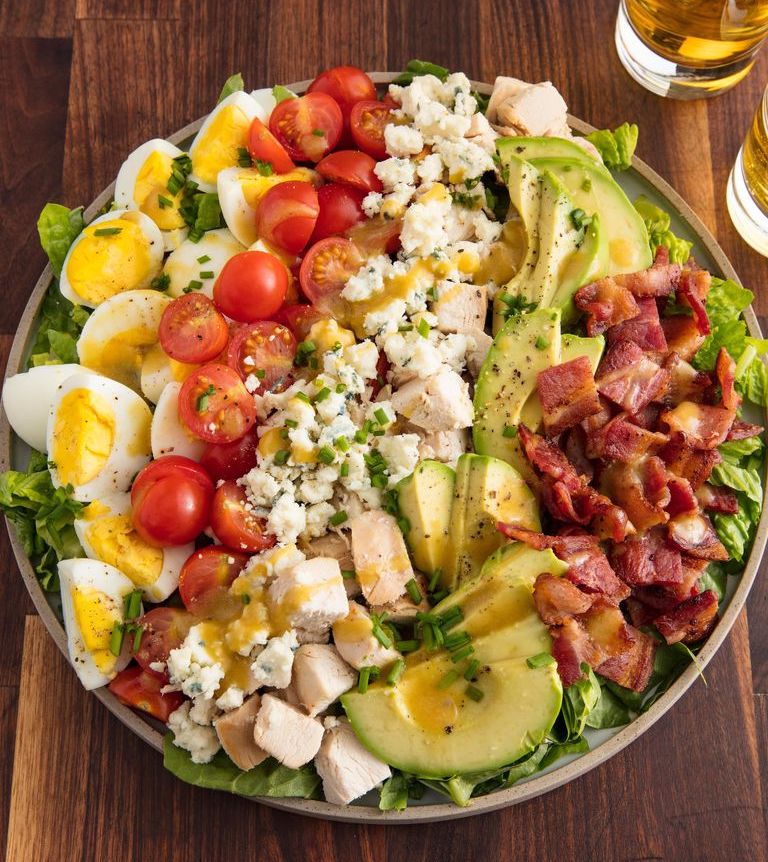 Try this classic Cobb salad made with a quick homemade dressing, courtesy of delish.com.  If you want to make this ahead of time, we recommend storing the lettuce, eggs, chicken, bacon, and chives in one container.  Then you can peel the avocado and chop it along with the tomatoes before adding to the salad and tossing with dressing. Everything will keep in the fridge like that for up to 3 days.  Serves 4-6.
Ingredients:
⅓ cup red wine vinegar
1 Tablespoon Dijon mustard
⅔ cup extra-virgin olive oil
Kosher salt
Freshly ground black pepper
1 head romaine lettuce, coarsely chopped
4 hard-boiled eggs, peeled and quartered
12 oz. cooked chicken, diced
8 slices bacon, cooked and crumbled
1 avocado, thinly sliced
4 oz. crumbled blue cheese
5 oz. cherry tomatoes, halved
2 Tablespoons finely chopped chives
Procedure:
In a jar, shake together vinegar, mustard, and oil and season with salt and pepper.
On a large platter, spread out lettuce, then add rows of hard-boiled egg, chicken, bacon, avocado, blue cheese, and cherry tomatoes.
Season with salt and pepper, drizzle with dressing, and garnish with chives.