Eggplant Caponata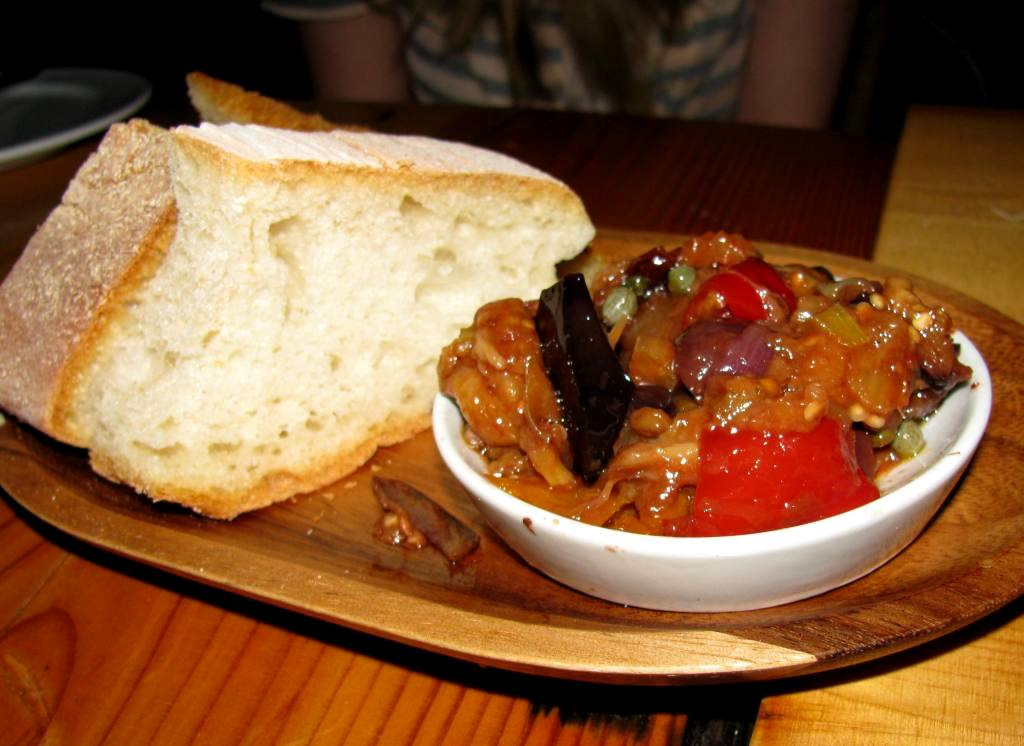 With eggplants still in abundance, I can't wait to make another batch of this Sicilian deliciousness. The recipe makes about 4-5 cups and keeps well for about a week in the fridge.
Ingredients:
⅓ cup olive oil
1 medium eggplant, peeled and cut into small cubes (you should have about 4 cups of cubed eggplant)
½ of a green or red bell pepper, diced
1 small onion (or ½ of a large one), diced
4 oz. mushrooms (about 5 medium), chopped
3 cloves garlic, minced
½ cup pitted, black olives, chopped (green ones work equally well, too)
1 6-oz. can of tomato paste
3 Tbsp red wine vinegar
1½ tsp sugar
½ tsp oregano
salt and pepper
Procedure:
Heat oil over medium heat and add eggplant, bell pepper, onion, mushrooms, and garlic. Season with salt and pepper. Cook for about 10 minutes, until vegetables are soft.
Add the olives, tomato paste, vinegar, sugar, and oregano. Season again with salt and pepper. Lower heat to medium-low, cover, and cook for 30 minutes. Stir a few times during cooking, and add a tablespoon or two of water (or olive brine) if the mixture is too thick and sticking to the bottom of the pan.
Allow caponata to cool before serving. Caponata can be part of an antipasto platter, or served as a side dish to grilled meat or fish. It is equally acceptable to just serve with good quality crackers or on toasted slices of baguette. Best to use the traditional, globe (i.e., burgundy) eggplants for this.