Potato Salad with Arugula and Dijon Vinaigrette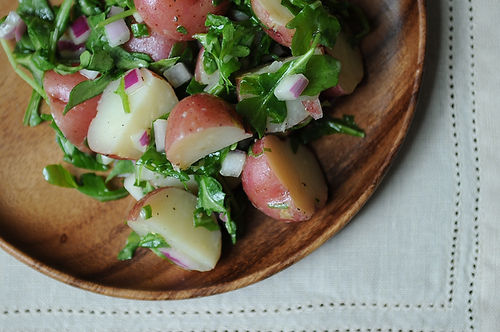 This recipe, from the food52.com blog, serves 6-8 and comes together very quickly.  It uses vinaigrette instead of mayonnaise, so the salad is refreshing and light.  Give it a try!
Ingredients:
½ small red onion, peeled and chopped
2 lb. new potatoes, scrubbed and cut into bite-sized pieces
Salt
1 Tablespoon rice vinegar
Freshly ground black pepper
2 Tablespoons finely chopped chives
3 cups arugula, stems removed, washed, dried and very roughly chopped
2 Tablespoons red wine vinegar
1 Tablespoon Dijon mustard
5 Tablespoons good olive oil
Procedure:
Put the onion in a small bowl and cover with cold water (this will remove some of the bite).  Put the potatoes in a large pot of generously salted water.  Bring to a boil over high heat.
Lower the heat so the water is barely simmering and cook for about 10 minutes, until you can pierce the potatoes with the tip of a sharp knife and it slips out easily.  Drain the potatoes well and pour them into a large bowl.
Gently toss the warm potatoes with the rice vinegar, ¼ teaspoon salt, and ½ teaspoon pepper.  Add the chives, arugula, and red onion and stir through.
Whisk together the red wine vinegar, mustard, and olive oil in a small bowl.  Add salt and pepper to taste.  Pour over the potato mixture and toss to combine.  Serve warm or keep covered at room temperature for up to an hour.