Nectarine Arugula Salad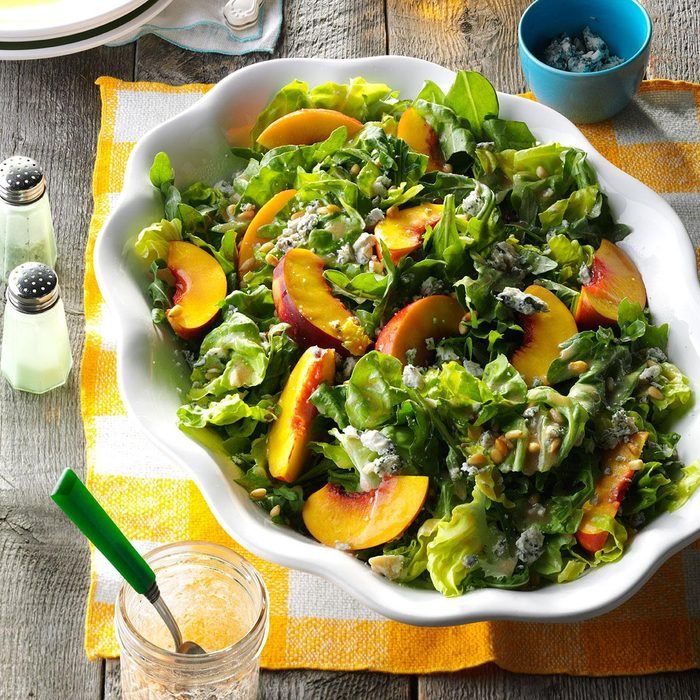 Found on Taste of Home, here's a summer salad that brightens any supper. The homemade dressing with a hint of berries is perfect with arugula, nectarines and blue cheese.  Serves 8.
Ingredients:
4 cups fresh arugula or baby spinach
4 cups torn Bibb or Boston lettuce
3 medium nectarines, sliced
2 Tablespoons pine nuts, toasted
2 Tablespoons crumbled blue cheese
Note: To toast pine nuts, bake in a shallow pan in a 350° oven for 5-10 minutes or cook in a skillet over low heat until lightly browned, stirring occasionally.
Dressing:
2 Tablespoons raspberry vinegar
2 teaspoons sugar
1 teaspoon Dijon mustard
⅛ teaspoon salt
Dash pepper
3 Tablespoons olive oil
Procedure:
In a large bowl, combine the 5 salad ingredients.
In a small bowl, whisk vinegar, sugar, mustard, salt and pepper. Gradually whisk in oil until blended.
Drizzle dressing over salad; toss to coat.