Classic Ukrainian Borscht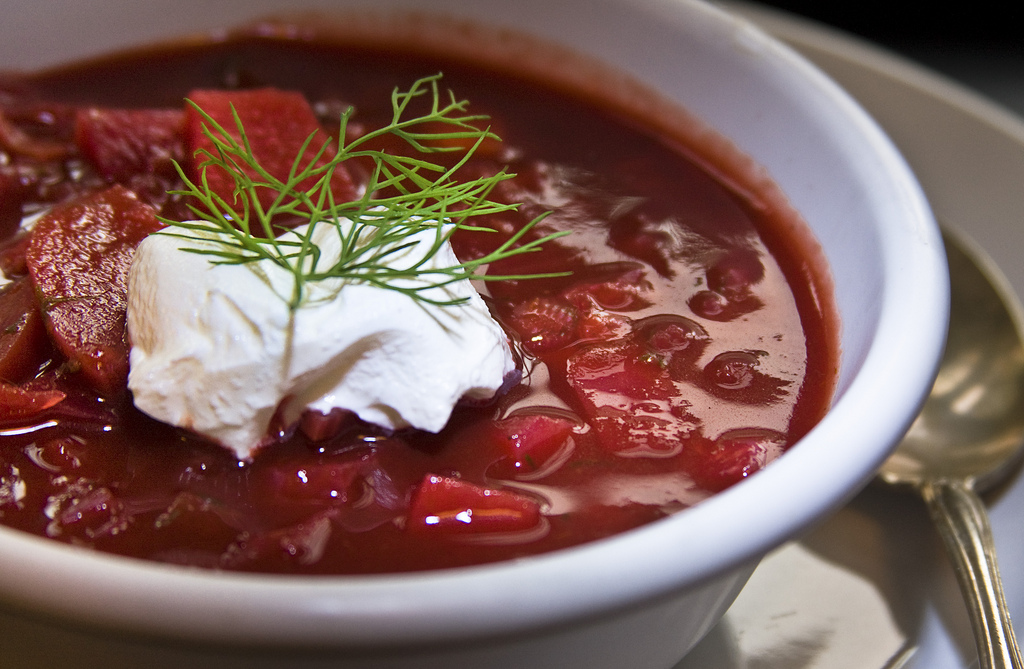 This recipe for classic Ukrainian borscht was found at Natasha's Kitchen food blog.  This recipe is meatless, but you can add in cubed beef, broth, and bones to add more flavor.  This soup takes about 2 hours to cook everything completely, and serves 10-12 as a side.
Ingredients:
2 large or 3 medium beets, thoroughly washed
2 large or 3 medium potatoes, sliced into bite-sized pieces
4 Tablespoons cooking oil
1 medium onion, finely chopped
2 carrots, grated
½ head of cabbage, thinly chopped
1 can kidney beans with their juice
2 bay leaves
10 cups water
6 cups chicken broth
5 Tablespoons ketchup
4 Tablespoons lemon juice
¼ teaspoon freshly ground pepper
1 Tablespoon chopped dill
Procedure:
Fill a large soup pot with 10 cups of water. Add 2-3 beets. Cover and boil for about 1 hour. Once you can smoothly pierce the beets with a butter knife, remove from the water and set aside to cool. Keep the water.
Slice 3 potatoes, add into the same water and boil 15-20 minutes.
Grate both carrots and dice one onion. Add 4 Tbsp of cooking oil to the skillet and sauté vegetables until they are soft (7-10 minutes). Stir in ketchup when they are almost done cooking.
Thinly shred cabbage and add it to the pot when potatoes are half way done.
Next, peel and slice the beets into match sticks and add them back to the pot.
Add 6 cups chicken broth, lemon juice, pepper, bay leaves and can of kidney beans (with their juice) to the pot.
Add sautéed carrots and onion to the pot along with chopped dill.
Cook another 5-10 minutes, until the cabbage is done.
Serve with a dollop of sour cream, mayo, or horseradish.